Financial gains from the worrying climate change phenomenon are increasingly overshadowing the attendant ecological loss, thanks to the Clean Development Mechanism (CDM), which is transforming the environmental gloom into financial boom.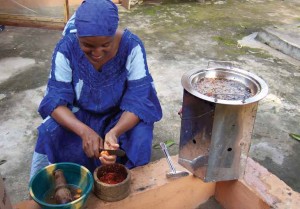 A system put in place by the Kyoto Protocol to help countries meet binding greenhouse gas (GHG) emissions reduction targets, the CDM allows emission-reduction projects sponsored by developed nations in developing countries to earn certified emission reduction (CER) credits, each equivalent to one tonne of carbon dioxide (CO2).
Already, Nigeria operates six CDM projects registered by the United Nations Framework Convention on Climate Change (UNFCCC), which is based in Bonn, Germany.
The projects include: recovery of associated gas that would otherwise be flared at Kwale oil-gas processing plant, which is a joint venture (JV) initiative involving the Nigeria National Petroleum Corporation (NNPC) and Nigeria Agip Oil Company (NAOC); the Ovade Ogharefe Gas Capture and Processing Project, a Pan Ocean Oil/NNPC JV; Efficient Fuel Wood Stoves operated by Development Association for Renewable Energies (DARE); Municipal Solid Waste Compositing Facility in Ikorodu, Lagos State, courtesy of EarthCare Nigeria Limited; Save 80 Efficient Woodstove, courtesy of DARE/Atmosphair; and, Asuokpu-Umutu Marginal Field Gas Recovery Facility, operated by Platform Petroleum.
However, about 12 CDM proposals are awaiting the UNFCCC endorsement. These are: the Kanji Hydropower Rehabilitation Project, operated by the Power Holding Company of Nigeria (PHCN); Displacing grid/off-grid steam and electricity generation with less carbon intensive fuels in Aba; Blended Cement Production at the Lafarge/WAPCO cement facilities; Gas Flare-out Project at Niger Delta Petroleum Ltd Oil and Gas Field;  ADDAX Petroleum Development (Nigeria) Limited's Offshore Associated Gas Capture and Utilisation Project; and, INTOL-JPI Environ Management Systems' "APA Integrated Waste Management Project".
Others are: the Shell Petroleum Development Company Nigeria's "Gathering, treatment, transmission and utilisation of non-associated (NAG) and associated gas (AG) for power generation and supply to customers (including domestic customers)"; BAS Consulting's "Energy Efficient Lighting Project (CFL) for Nigeria"; CDC Company's "Efficient Lighting Systems Project for the Nigeria Clean Energy Access Program (NCEAP)"; Global Bio-fuel Limited's "Grid-Connected Electricity Generation from Bagasse Surplus Project; Threshold Bio fuels and Energy Company; and, two efficient cookstoves also pending now – from USA.
Erstwhile Nigerian DNA to the UNFCCC, Victor Fodeke, who laments that Africa is lagging behind other continents in CDM projects drive, however submits that a recent World Bank study that focused on low-carbon energy study in sub-Saharan identified over 750 CDM project opportunities in Nigeria.
"The report concluded that if all these CDM projects were implemented, slightly over 100 million tonnes of CO2 equivalent (tCO2e) of GHG emission reductions can be generated annually in Nigeria," says Fodeke.
He adds: "According to  recent study by UNISPACE/G.O.D. Corporation, and which is  in harmony with one World Bank report, considering the prevailing global carbon market price of about $12.5/tCO2e, this can inject over $1.25 billion into the Nigerian economy from the sales of carbon credits (CER units) generated. This will be in addition to investment that will flow into the implementation of clean energy technologies, especially from the cement sector for the underlying CDM projects, which has been estimated to be in the excess of $18 billion."
According to him, the cement sector is a significant source of GHGs, which he notes makes the sector interesting for CO2 emissions mitigation options.
"As of January 2009, 203 CDM projects were initiated by the cement industry. A total of 52 cement-related CDM projects were registered, 12 were rejected, 121 projects are at the validation stage (of which 13 are located in India, 78 in China and only three in Africa) and 18 projects have been submitted for registration or are being corrected."
He emphasises that CDM in general and the cement sector can offer attractive opportunities for supporting Nigeria's development priorities.
His words: "At 20 percent Scenario Deforestation Avoidance, proceeding from the projected 20 percent deforestation rate at $15 per ton of CO2, Nigeria's carbon credit sequestration capacity through the project's implementation will generate equivalent of $229,605,000 year, which translates to about N34.44 billion per year.
"AT 50 percent Scenario Deforestation Avoidance, proceeding from the projected 50 percent deforestation rate at $15 per ton of CO2, the nation's carbon credit sequestration capacity through the project's implementation will generate equivalent of $574,010,000 per year, which translates to about N86.10 billion every year.
"These funds from CDM can inject real measurable, reportable & verifiable (MRV) dividends into the Transformational Agenda of the current administration and eradicate poverty, hunger and diseases."
Out of the total 4,067 registered CDM projects worldwide, Africa hosts only 85 projects or 2.09 percent. South Africa is leading with 20 projects or about 25 percent of the lot. The remaining projects are hosted by: Egypt (10), Morocco (eight), Tunisia (two), Uganda (10), Tanzania (one), Nigeria (six), Cote d'Ivoire (three), Kenya (seven), Ethiopia (one), Cameroon (two), Mauritania (one), Senegal (two), Mali (one), Zambia (one), Madagascar (one), Liberia (one), DRC (two), and Rwanda (three) and Ghana (one).
Commenting on the Save-80 Wood Stove, Yahaya Ahmed of the Kaduna-based DARE said: "The project is one of the successful sustainable CDM projects which UNFCCC showcases on its websites. To this effect, we were invited by the UNFCCC and the World Bank Institute to present the project at the International Carbon Expo which took place early June in Cologne, Germany.
"Nigeria, as the host country of the S-80 project, was praised for getting the project as the first of its kind worldwide (in the Categorie of Household Energy using Biomass and the  Methodology AMS II-G) to be registered as a CDM project and the first Biomass Household Energy project to be issued Gold Standard CERs.
"Subsequent to the exhibition in Cologne, we have been invited to present the project again at the conference on 'Restoring Earth's Degraded Lands,' which held recently in Caux, Switzerland, and was jointly organised by the UNCCD (United Nation Convention to Combat Desertification) and the Geneva-based Initiatives of Change (IoC). Executive Director of UNCCD, Luc-Marie Gnacadja, personally commended Nigeria for hosting the Save-80 project."