UK Prime Minister, Boris Johnson, was moved to an intensive care unit on Monday, April 6, 2020 after his condition with coronavirus symptoms "worsened," his office has said.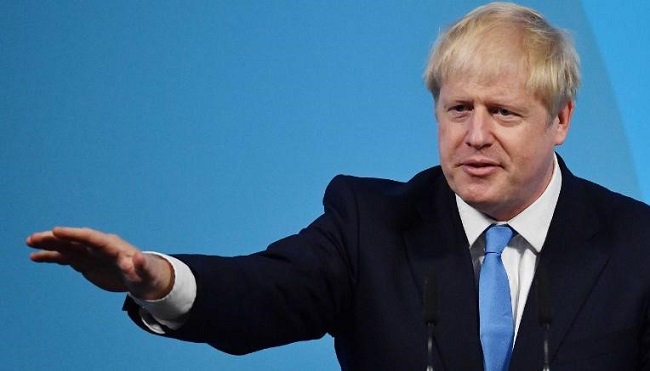 Johnson, 55, was first admitted to St Thomas' Hospital in London on Sunday evening for what he said were "routine tests," adding that he was in "good spirits."
But the apparent change in the leader's health has shocked the nation, with politicians from his party and the opposition voicing their support for the leader as the country battles a widespread coronavirus outbreak.
"Over the course of this afternoon, the condition of the Prime Minister has worsened, and, on the advice of his medical team, he has been moved to the Intensive Care Unit at the hospital," a Downing Street spokesperson said.
According to Downing Street officials, Johnson remains conscious and has been moved to the intensive care unit as a precaution, in case he requires ventilation.
The move strikes a sharp contrast to earlier reports on Johnson's condition: During his period of self-isolation, Downing Street had said that Johnson's symptoms were "mild," and on Sunday said his hospitalization was just a "precautionary step."
The Prime Minister's spokesperson had said earlier on Monday that Johnson spent a "comfortable" night in hospital but would not comment on reports Johnson was given oxygen. Officials are no longer describing his symptoms as mild.
Downing Street on Monday said that Johnson has asked Foreign Secretary Dominic Raab, who is the First Secretary of State and the most senior Cabinet minister, to deputise for him where necessary.
Raab chaired Monday's regular morning coronavirus briefing and made a televised statement saying that the government will continue Johnson's direction in responding to the outbreak.
"The government's business will continue and the Prime Minister is in safe hands with a brilliant team at St Thomas's hospital. And the focus of the government will continue to be on making sure that the Prime Minister's direction, all the plans for making sure that we can defeat coronavirus and can pull the country through this challenge, will be taken forward," he said.
He added there was an "incredibly strong team spirit" in government behind the Prime Minister.
Johnson was moved to the intensive care unit at around 7 p.m., Downing Street said. The decision was made by the leader's medical team after his condition worsened over the afternoon on Monday.
The United Kingdom passed a total death toll of more than 5,000 on Monday, according to Johns Hopkins University, one of the world's highest reported death tolls.
The government has been scrambling to implement widespread testing as evidence grows that people infected could be asymptomatic.
Courtesy: CNN