The Minister of State for Environment, Alhaji Ibrahim Jibril, has urged all stakeholders to collaborate with the Federal Government in efforts to promote sound environmental sanitation practices across the country.
The minister made the call in Abuja on Monday, November 20, 2017 during the celebration of the 2017 World Toilet Day, organised by the Ministry of Environment, in collaboration with Environmental Health Officers Registration Council of Nigeria (EHORECON).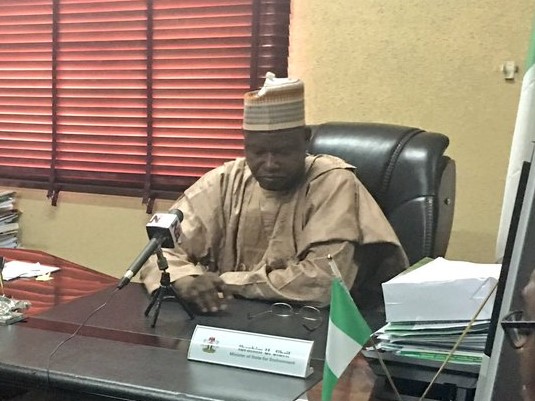 Jibril, who was represented by Mr Dominic Abonyi, the Registrar, EHORECON, said that the theme of the 2017 World Toilet Day was "Wastewater''.
He stressed that the theme was aimed at drawing global attention to the health challenges which were triggered by the poor management of sewage and effluent discharge.
He said that the theme was also aimed at re-awakening societal consciousness on the importance of having a toilet in every household and ensuring proper management of wastewater.
The minister said that National Demographic and Health Survey revealed that access to improved sanitation was still about 36 per cent for majority of the populace.
"I, therefore, invite the private sector to partner with the ministry and government at all levels in providing sanitation facilities for communities, especially in the rural areas where open defecation is still a norm.
"Provision of sanitary facilities in schools must go hand-in-hand with other efforts to achieve Universal Basic Education in the country.
"These efforts will promote sound environmental sanitation practices because we all know that poor sanitation is linked to the transmission of diseases such as cholera, diarrhoea, dysentery, hepatitis A, typhoid and polio.
"Besides, increasing the people's access to sanitation and improving hygienic behaviours are vital to efforts to reduce this enormous disease burden,'' he said.
Jibril said that the ministry and with the support of UN Development Programme (UNDP) had undertaken several activities to promote proper disposal of human waste in the country.
"The activities include the development of an all-embracing National Environmental Sanitation Policy,'' he said.
He stressed that sanitation was a crosscutting issue that required the active participation of various sectors of the economy as well as development partners to enable it to make a reasonable impact.
Speaking, Dr Shehu Ahmed, the Permanent Secretary of the Ministry of Environment, said that access to sanitary facilities remained a mirage to a vast majority of the citizens.
Ahmed, who was represented by Mr Theodor Nwaokwe, Deputy Director, Pollution Control and Environmental Health, said that sanitation was a fundamental element in the fight against poverty and preventable diseases.
He, however, advised Nigerians to support the government in ensuring a high level of sanitation coverage across the country.
By Vivian Emoni