The Nigerian Institute for Oceanography and Marine Research (NIOMR) on Friday, June 8, 2018 called on Nigerians to do more to ensure safety of marine lives.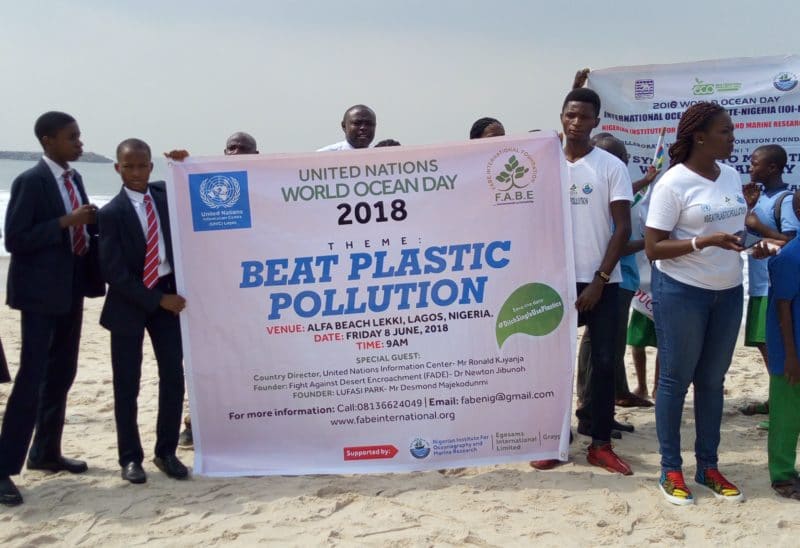 NIOMR's Assistant Director, Dr Mabel Yarhere, made the call in Lagos during the "Alfa Beach Clean-up and Up Cycle Training" to mark the 2018 World Oceans Day.
The institute organised the event in collaboration with the United Nations Information Centre (UNIC), Lagos, and FABE International Foundation.
Yarhere said that there was the need to save aquatic lives because they were source of food for humans.
She said that oceans must be devoid of plastic pollution in order to save marine lives.
She noted the United Nations declared June 8 World Ocean Day, adding that the year 2018 had the theme: "Preventing Plastic Pollution and Encouraging Solutions for a Healthy ocean".
She said: `'Plastic prevents the dissolved oxygen that is supposed to penetrate the ocean and marine resources are affected.
"Plastic also affects our fisheries; when plastics enter the tracks of fishes, they (fishes) die.
"The endangered species in our water, especially the turtles, are killed by plastics, and they are supposed to produce minerals into the ocean for fishes to reproduce.
"Plastics also affect the navigation of vessels in oceans and prevent the productivity of the oceans," she said.
The assistant director noted that the Sustainable Development Goal 14 aimed at making marine productive.
She said that this would make the world to feed well and have oceans devoid of plastics that cause casinogene in the body.
"In clearing the oceans, let us start from our homes. We have to properly dispose of plastics; we have to reuse them by recycling them.
"Avoid buying bags that are disposable.
"When you dispose of plastics properly, they will not block the terrestrial realm," Yarhere said.
Mrs Temitope Okunnu, the Founder of FADE International Foundation, said that plastic pollution had become critical because of the menace of plastics in the oceans.
Okunnu said that there was the need to properly dispose of every kind of waste so that it would not enter oceans.
"We should recycle and upcycle wastes."
She said that plastics were a menace because they would not degrade.
She, however, noted that plastics had a long-term value and could be harnessed to make beautiful things.
According to her, the foundation engages in using plastic waste generated from oceans and drainage systems to build decorative materials.
She said that the foundation also engaged in training people, including students, on how to utilise plastic waste to make money.
Okunnu said that the foundation would use plastics picked up from the Beach clean-up, such as plastic spoons, plates, disposable cups, table water containers and sweet wrappers, to produce fancy household products.
Mr Olumide Ajayi, Representative of Environment Department, Nigerian Ports Authority (NPA), said that there had been many efforts to protect the marine environment from plastic pollution.
According to him, the cause of deaths of many fishes in the ocean has been recently linked to eating of micro plastics.
"These are the same fishes we bought every day and use in making different kinds of dishes we consume," he said.
Ajayi said that promoting lifestyles that could rid the oceans of plastic pollution would make the oceans safe and reduce costs and delay in shipping goods and clearing them.
Dr Desmond Majekodunmi, the Founder of LUFASI Natural Parks, said that oceans needed to be protected by ensuring that plastics were not dumped there.
He said that celebration of Ocean Day should remind Nigerian Government and people of their responsibilities of clearing the ocean of all types of waste.
According to him, the earth is the ultimate for our life support system, with the ocean as an important part of the system.
Miss Miracle Emefiele, a JSS2 student of Linsy High School, Lekki, Lagos, one of the schools that participated in the beach clean-up, said that everybody should be involved in checking pollution of oceans with plastics.
She said that those going to beaches for relaxation should learn to carry back home, any waste they could generate while at the beach, for proper disposal
By Florence Onuegbu and Chidinma Agu