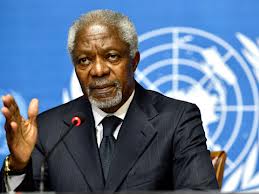 Global Commission on Drug Policy on Tuesday in New York, at its annual meeting, called for a fundamental change of global drug policies and decriminalisation of drug use.
Members of the commission are drawn from political leaders, including, former Brazilian president Fernando Henrique Cardoso, former Mexican president Ernesto Zedillo, former Colombian president Cesar Gaviria, former Swiss president Ruth Dreifuss.
The group also includes former UN Secretary General Kofi Annan and Richard Branson, Founder, Virgin Group.
The commission called for a complete overhaul of the global drug prohibition regime and focus on the promotion of the health and welfare of people instead of continuing to criminalise drug use.
It agreed that there must be an immediate end to punitive enforcement of drug policies, including jail time for non-violent, low-level users and producers of drugs.
It therefore recommended the redirecting resources to prevention and treatment of substance use.
It noted that repressive drug policies have lead to corruption and violence.
The group called on countries for outright legalisation of certain drugs such as cannabis, coca leaf and some other psychoactive substances.
Annan said at the occasion that the facts has spoken for themselves, and now is time for immediate change.
He said there was the need for drug policies informed by evidence of what actually works, rather than policies that criminalise drug use while failing to provide access to effective prevention or treatment.
Annan said such policies have led not only to overcrowded jails but also to severe health and social problems.
He said the report of the meeting was coming two years ahead of the next UN General Assembly Special Session on Drugs, set for 2016.
Annan said at the session will enable world leaders decide on new global drug control policies.