U.S. President, Joe Biden, has approved an emergency declaration for California after a week of storms in the state which had killed 12 people.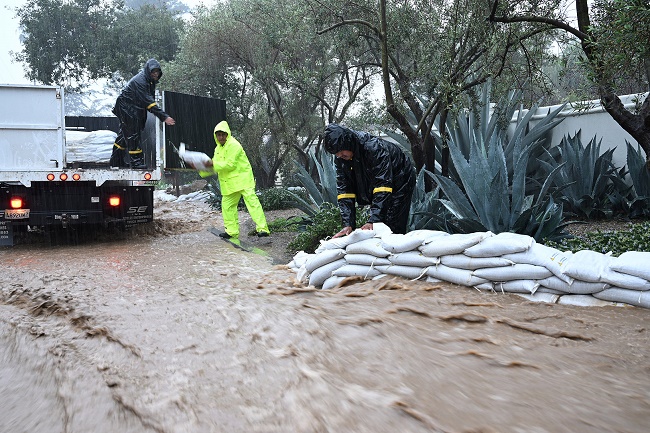 In a statement on Monday, January 9, 2023, from the White House, Biden said that the emergency declaration would authorise the Federal Emergency Management Agency (FEMA) to coordinate disaster relief efforts and mobilise emergency resources.
In the past 10 days, severe weather spawned violent wind gusts that toppled trucks, flooded the streets of small towns along northern California's coast and churned up a storm surge that destroyed a pier in Santa Cruz.
California Gov. Gavin Newsom on Sunday announced that he would ask the Biden administration to declare a federal emergency to support California's ongoing storm response.
Newsom said the state needed support amid an unrelenting wave of brutal storms that left hundreds of thousands of Californians without power.
Amid high winds and heavy rains, the worst of the storms is forecast to hit on Monday.
During a winter storm update Sunday, Newsom said to expect the worst of the storm and "very intense weather" in the next 48 hours.
"Don't test fate," Newsom said during the Sunday update. "Just a foot of water and your car's floating, you know, half a foot of water and you're off your feet."
More than half of Sacramento's 530,000 residents were in the dark at the height of the storm on Sunday, victimised by wind gusts of up to 60 mph that toppled trees and tangled power lines, the Sacramento Municipal Utility District said.
"Atmospheric river events" will continue to batter California through early this week with likely the most potent system arriving Monday, the National Weather Service said.
Additional rain on saturated soils will lead to considerable flooding, mudslides, and burn scar debris flows, the weather service said.
Widespread mountain snow and high winds will add to weather issues across the state, the statement warned.
"This could be a deadly situation and the storm will likely be a billion-dollar disaster," tweeted AccuWeather meteorologist Ariella Scalese.
"Several more inches of rain, mudslides/landslides. In addition, feet of snow above 6,500 feet and wind gusts exceeding 100 mph."
Montecito ordered to evacuate
Five years to the day after storm-induced mudslides ravaged Montecito in California, the entire town was ordered to evacuate as a deadly winter storm plowed through the area. Evacuation orders were also issued for parts of Santa Barbara and the nearby communities of Carpinteria and Summerland due to Monday's deluge.
The weather took a deadly turn in San Luis Obispo County, where floodwaters swept away a five-year-old boy and a motorist died after entering a flooded roadway.
In addition to Montecito, the evacuation order applies to residents of Toro Canyon, Padaro Lane from Via Real to Santa Claus Lane and Sycamore Canyon, and all campgrounds from Rincon Beach to Gaviota Beach.
By Cecilia Ologunagba