Wildfires in the Canadian province of Alberta continue to spread despite rain and falling temperatures, authorities said on Sunday, May 7, 2023.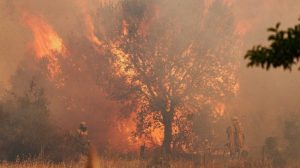 More than 375,000 hectares of land in Alberta have now burned and more than 29,000 people have had to leave their homes, authorities said.
Some 31 of the 108 active forest fires were out of control, forcing Alberta to declare a state of emergency late on Saturday.
The declaration allows federal funds to be released to fight the flames.
Recent rain had helped with firefighting, head of the Alberta Wildfire Protection Authority, Christie Tucker said.
"This has given firefighters the opportunity to work on some of the fire areas that they couldn't get to because of the extreme nature of the fires."
Cooler temperatures and higher humidity were expected over the next few days, she said.
Authorities had requested help from the neighbouring US state of Montana, Tucker said.
The extent of the damage could not yet be estimated, authorities added.
Colin Blair, director of the Alberta Emergency Management Agency, told Canada's CBC the priority was to protect lives and manage emergencies.
According to authorities, there have already been more than 360 fires since January.
Experts warn that climate change will increase the frequency and intensity of forest fires.
In western provinces of Canada, the average temperature has risen by 1.9 degrees Celsius since the middle of the 20th century, according to the Office of Environment and Climate Change Canada.