Thursday, February 2, 2023, is World Wetlands Day on the theme: "Time for Wetland Restoration." This year's celebration marks the 52nd anniversary of the Day, instituted to raise global awareness about the critical role of wetlands in sustaining human lives and the earth. This day also commemorates the date when the Convention on Wetlands was adopted on February 2, 1971, in the Iranian city of Ramsar.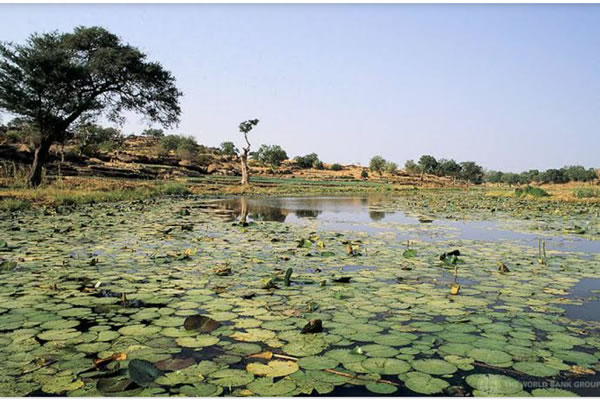 Also known as the Convention on Wetlands of International Importance, it is uniquely distinct as the first modern treaty among nations purposely to conserve natural resources. The Ramsar Convention remains the only global convention with the sole objective of protecting and conserving a specific ecosystem – "Wetlands" together with the plants and wildlife, especially waterfowls that depend on it.
Wetlands form wherever land meets water and include freshwater and marine as well as coastal ecosystems such as all lakes and rivers, underground aquifers, swamps and marshes, wet grasslands, oases, estuaries, deltas and tidal flats, mangroves and all human-made sites including fishponds, rice paddies, reservoirs and saltpans. Though they cover only around 6 per cent of the earth's land surface, 40 per cent of all plant and animal species live or breed in wetlands.
Wetlands are critically important ecosystems that contribute to the integrity of biodiversity, climate mitigation and adaptation, freshwater availability, a vibrant fisheries industry, livelihoods of local communities as well as local, national and world economies.
Commemorative Statements
Against this background, the Secretary General of the Convention on Wetlands, Dr. Musonda Mumba, has expressed her dismay at the alarming rate of wetlands destruction. "To date, nearly 90 percent of the world's wetlands have been degraded or lost," she said in a statement issued to mark the Day and noted: "We are losing wetlands three times faster than forests."
She added that "there is an urgency to raise global awareness on wetlands to arrest and reverse their rapid loss and encourage actions to restore and conserve these vital ecosystems."
Dr. Mumba reminded the global community that, "with only seven years left until 2030 for us to meet the Sustainable Development Goals, time is of the essence." Commenting on the aptness of the theme in-line with the objectives of the UN Decade on Ecosystem Restoration, she said, it provides a great opportunity for all to rethink and change how we impact the environment – and a chance to restore vital ecosystems like wetlands.
"Through activating all the relevant players from the general public to key stakeholders, we're mobilising an entire generation for wetland restoration," Dr. Mumba added.
The UN Decade of Ecosystem Restoration (2021-2030) is one of the UN's flagship initiatives launched during the celebration of World Environment Day, June 5, 2021. This initiative is a rallying call for the protection and revival of ecosystems all around the world, for the benefit of people and nature. It aims to halt the degradation of ecosystems and restore them to achieve global goals. This is important because, it is only with healthy ecosystems can the livelihoods of people be enhanced, climate change counteracted, and the collapse of biodiversity halted.
For her part, the Secretary-General of the Convention on International Trade in Endangered Species of Wild Fauna and Flora (CITES), Ivonne Higuero, noted: "World Wetlands Day is a time to stop and think about the importance of these incredible ecosystems, because they are home, shelter and breeding grounds for species of fish, amphibians, reptiles, mammals and plants."
In her statement to mark the Day, she said over-exploitation is not the only threat to wildlife, but "loss of habitats, such as wetlands, is one of the most serious concerns." Her concern is that: "the planet has already seen the loss or degradation of nearly 90 per cent of its wetlands – and that rate of loss is accelerating."
CITES regulates the international trade in more than 38 thousand species of animals and plants to ensure that trade doesn't threaten them with extinction.
The CEO of Wetlands International, Jane Madgwick's statement to commemorate the Day, focused on how the recent adoption of the Global Biodiversity Framework, which includes targets for protecting and restoring wetlands, has added significance to this year's World Wetlands Day celebration.
She observed that, during the negotiations, many preferred a simpler expression of "land and sea" without reference to wetlands in the Framework. However, the persistence of the coalition of NGOs, governments, political and indigenous leaders, resulted in the understanding that "bringing wetlands back into good condition, is essential to safeguard all other ecosystems – and to achieve a just and safe planet."
Ms. Madgwick explained that, to achieve the global wetland restoration targets, "we need significant shifts in governance, policies and investments. The private sector needs to join the party in a big way – and NGOs need to embrace and enable that."
Wetlands International has led more than 30 significant wetland restoration projects, including 14 main wetland types since the year 2000, together with a multitude of partners. Most have been implemented at a landscape scale and with a long-term perspective, connecting restoration with protection measures as well as enabling more nature positive practices in production landscapes.
Deputy National Director of A ROCHA Ghana, Daryl Bosu, added his voice to the call on nations to seize the opportunity offered under the UN Decade of Restoration to reverse the unacceptable trends in ecosystem losses. "Harnessing the global decade of restoration goal, Ghana needs to urgently take steps to revive our priceless wetlands like Sakumo and other wetlands that are under siege of encroachment and conversion," he stated.
What is happening in Ghana?
Forestry Commission's Wildlife Division is responsible for managing wetlands in Ghana. The Division in collaboration with the Media Platform on Environment and Climate Change (MPEC) is marking World Wetlands Day with a media interaction at the Densu Delta Ramsar Site.
The Division in collaboration with academia and civil society partners, delineated the nation's five coastal Ramsar Sites namely – Muni-Pomadze in the Central Region, Densu Delta, Sakumo and Songor all in the Greater Accra Region and Keta in the Volta Region. The only in-land and man-made site is Ashanti Region's Owabi Wildlife Sanctuary, site of the Barekese Dam, which supplies most of the Kumasi Metropolis with pipe borne water. This happened during the mid-1990s under the World Bank funded Coastal Wetlands Management Project.
Major threats to sound management of Ghana's wetlands of international importance include rapid conversion of wetlands for housing development, rapid slum development, illegal mining (galamsey), land and soil degradation, as well as water pollution.
By Ama Kudom-Agyemang