In keeping to its vision of creating a Nigeria where people prosper while living in harmony with nature, the Nigerian Conservation Foundation (NCF) and its partner, the Nature and Biodiversity Conservation Union (NABU), have launched a three-year forest management and livelihood improvement project in Cross River State.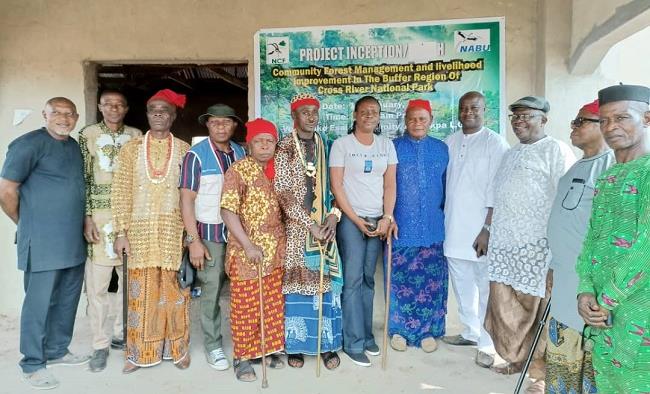 The project is designed as an audacious effort to give a strong economic and viable support, reduce deforestation, limit forest encroachment, alleviate poverty, and boost food security in eight communities of Cross River State.
On Wednesday, January 18, 2023, NCF organised an Inception Meeting/Project launch for the project titled "Community Forest Management and Livelihood Improvement in the Buffer Region of Cross River National Park" in Iko Esai, Akampka LGA, Cross River State.
A survey conducted by NCF's technical team highlighted some of the challenges facing the community people of the eight communities and posit threat of losing their long-preserved community forest. Through this project, members of the community would be taught how to domesticate some animal and plant species, convert farm produce to edible items for food market and how to preserve perishables item for long time use or sales.
The project aims to re-establish community-based mechanism for forest conservation and utilisation, promote sustainable agricultural practices, build capacity of Non-Timber Forest Products (NTFP) traders to improve their income, sensitize local people on sustainable forest use and enhance value addition.
Director General of NCF, Dr. Joseph Onoja, represented by Acting Director of Technical Programmes, Mr. Adedayo Memudu, while appreciating the community, said that when we talk about community forest management in Nigeria, these eight communities stand out, and that they have become a reference point.
He said: "NCF appreciates the communities for making frantic efforts to protect what our forefathers left for us, as a way to secure what is left of what we inherited, and to have what to pass on to the coming generation so that we can guarantee our collective future."
He revealed that this improved livelihood support that abound would be a mutually beneficial intervention for the communities and the state in general.
The beneficiary communities in Akampka LGA are Iko Esai community, Agoi Ekpo community, Owai community, Iko Ekperem community, New Ekuri Clan community, Ifumkpa community, Old Ekuri community, and Agoi Ibami community.
The meeting had in attendance traditional rulers, community leaders, youth leaders, officials of Cross River Forestry Commission, Cross River National Park, CBOs, and NCF officials to discuss enhancement of livelihoods for the community development.
Among them were Obio Arong Owai, Iko Esai community; Michael Attah, Agoi Ekpo community; Opliot Okon, Owai community; Ophot Ewort, Iko Ekperem community; Abel Egbe, New Ekuri Clan community; Cletus Ibuni, Ifumkpa community; Oyi Boniface, Old Ekuri community; Charles Ujong, Agoi Ibami community; Deputy Conservator of Park, Innocent Asuquo; Dr Frank Edu and Dr (Mrs) Effion Edu of CRSG Forestry Commission; Ms. Folake Salawu, GRN Coordinator for NCF; Mr. Emmanuel Owan, Head of NCF Calabar office; Mr. Joshua Dazi, Programme Development Officer, among others.
The Community Forest Management and Livelihood Improvement in the Buffer Region of Cross River National Park is funded by NABU and implemented by NCF, described as the frontline environmental and nature conservation NGO that pursues the conservation of nature and its resources with the aim of improving the quality of human life both in the present and the future.