Water scarcity in parts of Lagos State is worsening, even as accusing fingers are being pointed in the direction of road construction works that affect underground water pipes, poor state of public water facilities, and irregular power supply.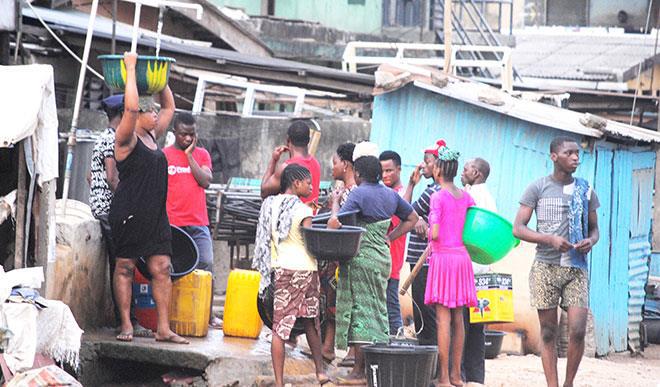 The consequences of these have left the masses with bitter experiences, as businesses that require water to operate continue to suffer huge losses.
On a very hot Sunday, like other days and having been sweating for hours and almost becoming unconscious, Mr. Chukwuemeka Ibekwe, a trader at Orile market, sought refuge at a nearby swimming pool on School Road, a popular street on the Orile end of the Lagos-Bagagry Expressway.
However, his expectation of not only cooling off the excess heat in his body but also enjoy the company of hundreds of like minds who trooped there to swim on Sundays was dashed, due to shortage of water such that managers of the centre have been unable to pump water into the pools.
"I came all the way from Ijora Badiya which is many kilometres from here, only to be told that there is no water for us to swim. See how I'm sweating. It is not funny at all. The authorities should do something fast to get people out of this. The suffering is too much," he says.
At the facility, there are no fewer than five pools, all without water.
A sad looking attendant laments that the water scarcity is adversely affecting their business, and threatening the jobs of nearly 20 employees there.
His word: "See how dry everywhere is. On a good day, about 500 people would come here to swim and buy drinks. We charge N500 person. Multiply this by 500, you see that it is not a small money. But now, for nearly two weeks, we don't have water. Yet we have heavy bills to pay including NEPA bill, and house rent, not excluding children school fees."
The poor water situation on School Road street in Apapa and its environs, seem to paint a picture of the difficult times: risk to lives, vulnerability to diseases, threat to job , and other unfavourable conditions that the people have been subjected to. Indeed, these have been the lot of residents in Lagos communities such as Orile-Ignamu, Amukoko, Igando, Ajegunle and FESTAC, among other areas visited.
The water situation appears more severe in Sari Iganmu, where most houses are not connected to the public distribution system. Residents here buy water from commercial borehole facilities.
Following the non-availability of power to pump water, a resident of Iyabo Street narrates: "Most people go to Amukoko, a neighbouring community on the other side of the canal, to buy water cheaply. When they get to the canal, they pay N10 to board a canoe to cross over. After buying water in Amukoko, they pay money again to the canoe operator to drive them back.
"But for those who cannot take such risk, they wait for certain people who bring water in a truck. But they charge very high. A 20-litter jerry can of water costs as much as N70 and to buy enough to take you for one full day; one risks spending N500 a day just on water. Where do we get such money? Most of us here in this Iyabo Street and indeed this whole area are poor. We do menial jobs and hardly save enough to eat let alone send our children to good schools. Please help us tell them to come to aid and fix the water. We are suffering too much."
On Iyabo Street, residents said why the impact is so much on them is because of the drying up of most wells which readily serves them for washing clothes, cleaning the toilets and even bathing.
In Agbada, Akowonjo area, a restaurant operator, Wisdom Uzo, who uses a lot of water for his business, also describes the water issue as a tough one for residents of the community.
He says: "Getting water is a very tough task here because of the very epileptic power supply. To pump water is difficult for tap water owners, hence they stop pumping. So people go far to get clean water. If you manage to see water, they can sell 50 litres for N20 as against N5 it was sold for when things were a bit normal."
Ajegunle, a very populous, slum settlement in Lagos, where it is said that vehicles give way to human traffic, has a fair share of the water supply challenge.
A resident, Mr. Oscar okiche, who is a civil servant, discloses: "It is really difficult in Ajegunle and its environs getting tap water. People usually buy from borehole owners, except for those who have well in their compound. Again most people buy bags of sachets water, which has even gone high from N350 to N500 for five and half bags of water, an increment attributed to the continued scarcity of the Dollar, since the nylon used in packing the water is imported. You usually see people carrying containers going to those who have well water to fetch."
Visits to several other communities such as Itire, Aguda, Abule-Egba to mention but a few, revealed that residents have little or no access to potable water. Not even government -owned hospitals are spared. The result is that many residents, particularly from the northern part of the country, have capitalised on the scarcity to go into trading in water.
Also, many people have resorted to drinking water from open wells with mosquito lavas in them, as well as untreated borehole water that are deemed unsuitable for human consumption, with the risk of accelerating the spread of water-borne diseases like typhoid and cholera.
Statistics show that water-related diseases kill a child every eight seconds, and are responsible for 80 per cent of all illnesses and deaths in the developing world.
Located in the south-western part of the Nigerian and bounded on the north and east by Ogun State, west by the Republic of Benin, and south by the Atlantic Ocean, Lagos, Nigeria's economic hub and the nation's former federal capital, is said to have the potential to providing enough potable water for its about 25 million inhabitants, being surrounded by water bodies such as the Atlantic Ocean, lagoons and canals, which constitute 22 percent of its 3,577km2 land mass.
But, due to the high pollution level of these water bodies, due partly to ineffective management of wastes like channelling of raw sewage into water bodies, residents are faced with potable water shortage.
Such unsavoury environmental practices have persisted for decades and blamed mainly on the failure of the authorities to properly enforce existing sanitation laws.
By Innocent Onoh