Yusuf Shittu, Mary Adeoye, Elizabeth Williams, Olajumoke Adebayo and Emmanuel Osinaike, who are members of the Carrington Youth Fellowship Initiative, are undertaking a community-based project to improve access to Water, Sanitation and Hygiene (WASH) in Ebute-Ilaje, a riverine slum community in Bariga area of Lagos State as part of the fellowship programme. In this piece, they highlight the fact that lack of access to WASH is a pressing challenge in the community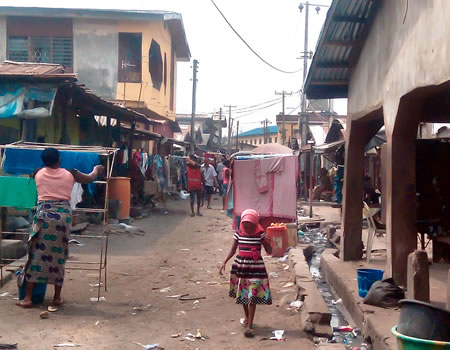 When we stepped into Ebute-Ilaje – a riverine slum community in Bariga, Lagos for the very first time, we were left astonished. The community was literally built on heaps of refuse, the ground bounced as we walked with our feet sinking deeper with every stride while navigating through piles of rubbish, human and animal excreta and, of course, plastic. Children would run around barefooted in the mess created many years ago and defecate openly while women and girls bath in shanty bathrooms not minding passersby and stares from neighbours.
We were five young, passionate people from diverse backgrounds and experiences matched by the Carrington Youth Fellowship Initiative of the US Consulate, Lagos and united by the unflinching desire to make a positive difference in the health and wellbeing of Nigerians especially vulnerable populations.
As change makers, we would not be daunted by what we had seen in the community, instead, we found in it a great challenge and a profound opportunity to make a significant impact.
We met often to brainstorm, reflect and quiz ourselves about the prevailing problems we had observed within the community with a view to creating solutions.
We had a long list of problems we identified but water scarcity was not one of them – our logic was that a community bounded by the Lagoon with water all around it, could not possibly have a major water problem.
This was not until we met Gbotemi Ogungbamila.
Gbotemi, an 18-year-old promising chap, had just passed his UTME exams in flying colours and was hopeful of a career in mechanical engineering. He had lived in the community all his life and he was optimistic he would get a higher education he could use to one day help transform his community.
His father, a local "marine engineer", was responsible for repairing the engines of boats within the community while his mother traded in textiles. They are both part of the many immigrants from Ilaje – a famous community and ethnic group in Ondo State, who currently dominate the Ebute-Ilaje Community in Lagos.
In Gbotemi's words: "Since I was born, we have always been faced with this serious scarcity of potable water."
"Like many of my peers, we grew up adapting to this problem," he continued.
"The lagoon is our major source of water, but we cannot afford to drink it because we all grew up defecating into it, so for as long as I remember, we would usually have to trek long distances to get water that is 'manageable' for us to drink. We still do that till today," he stressed.
Deeply enthralled by this account, we were prompted to dig deeper into this problem. We held series of focused group discussions with the community leaders – considering opinions from women, young people and the elderly. We found a recurring decimal.
Chief Dodo, an ex-officio of the Community Development Association (CDA), bitterly lamented in Yoruba during one of our discussions, saying: "Iya omi gangan lo n je wa ni adugbo yi" (meaning: our major source of suffering in this community is this water scarcity).
He was not at all far from the truth. The community had a huge density of water peddlers popularly known as "Meruwa" who helped to relieve the stress of families or households who could afford it by bringing water (although not fit for drinking) kilometers away to their doorstep.
Usman, one of the Meruwas we spoke to, makes his own living this way. He told us he charges between N300 and N400 to deliver 12 gallons of water daily to households in the community. He said he has no way of purifying the water but some of his customers still drink the water.
In corroboration, Gbotemi lamented about a high number of cases of his peers coming down with diarrhoeal illnesses while growing up. He noted many of them would usually be treated at home with herbal concoctions because they could not afford care at the health centres which were several kilometres away.
"This water issue is a serious problem in this community, we have had series of boreholes that have been attempted in the past but were poorly constructed and thus, contaminated with iron. If we can be assisted with one that is of good depth and functional, we are ready to maintain it," the Secretary of the Community Development Association, Mr Matthew Jikeme, claimed at the stakeholders meeting with the community recently.
Just like Ebute-Ilaje, thousands of communities across Nigeria face the same dilemma – a lack of access to water.
According to WaterAid Nigeria, one in every three Nigerians lack access to potable water and about 59,500 Nigerian children die each year due to poor water and sanitation. Likewise, 28% of Nigerians still defecate openly, many of them women and girls put at risk of rape, sexual assault and abuse. As the Health Team of the Carrington Youth Fellowship Initiative of the US Consulate, Lagos, we would not just sit by and watch.
We would be training 20 Community WASH Champions, who would be vanguards of Clean Water and Sanitation within the community, teaching their peers and neighbours about water purification methods, importance of proper sewage and refuse disposal and personal hygiene.