To commemorate the 2019 World Water Day (WWD) marked on March 22, the Our Water Our Right Coalition has led Lagos residents to ask the governor-elect, Babajide Sanwo-Olu, to forget any plan to privatise public water in the state but make provision of potable water a priority of his administration.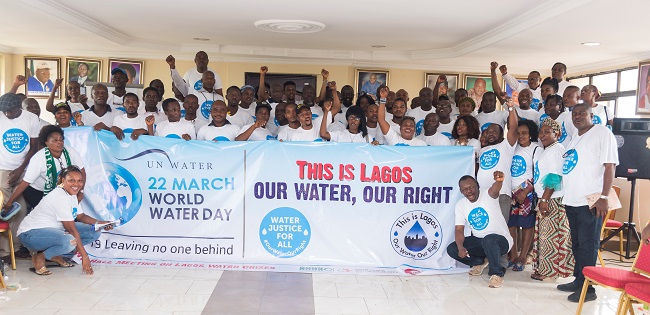 During a town hall meeting on Monday, March 25 in Lagos, the residents decried the efforts made by administrations in the state to privatise public water to the detriment of the masses.
The theme of this year's WWD is "Leaving no one Behind".
Groups present at the meeting include Nigeria Labour Congress (NLC), Amalgamated Union of Public Corporations, Civil Service Technical and Recreational Services Employees (AUPCTRE), Environmental Rights Action/Friends of the Earth Nigeria (ERA/FoEN), and the Africa Women Water Sanitation and Hygiene Network (AWWASHNet), among others.
According to the chairman of Lagos NLC, Idowu Adelakun, during the governorship campaigns, Sanwo-Olu had promised to build more water works and expand the existing ones like Akute, instead of privatising water resources in the state.
Akinbode Oluwafemi of ERA, who is among the panelists, informed that former Lagos governor, Babatunde Fashola, was unable to privatise water in the state because of people's power.
Noting that the incumbent governor, Akinwunmi Ambode, was more daring, Oluwafemi urged the people to intensify the fight to nail the coffin of water privatisation in the state, as the Our Water Our Right coalition's campaign had slowed down privatisation plans in the state.
Other speakers agreed with him that Lagos is a pilot state for any serious policies in the country, that any policy that succeeds in the state would eventually be replicated in others.
Secretary of Lagos AUCPTRE, Biodun Bakare; Vicky Onyekuru of AWWASHNet; as well as activists, Ayodele Akele and Achike Chude, who were panelists at the event, urged the participants not to leave anyone behind, by taking the message back to their communities, until Lagos is provided with water as of old.
"Water is an inalienable human right. We are being denied the right to water because of our weakness and ignorance.
"Governments deliberately ground water facilities to give the impression that only the private sector can manage them; only for them to sell it to their cronies," Chude said.
Akele, who noted that he drank free bottled water in Geneva airport, described water privatisation as wicked.
"Lagos is backward. Imagine a centre of excellence without public water," he added.