The Nigerian Meteorological Agency (NiMet) predicts a below-normal-rainfall, dwindling amount and duration in many parts of the country in 2019.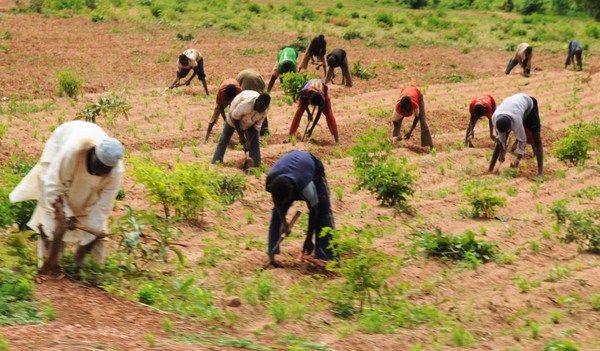 In its 2019 Seasonal Rainfall Prediction (SRP), NiMet calls 2019 El-Nino where rainfall deficit with varying magnitude is expected for most parts of the country.
Observers, therefore, posit that the pattern of rainfall can affect food production except there is sentisation to climate smart agricultural practices and proper weather information dissemination to the farmers.
Climate-Smart Agriculture (CSA) is an approach for transforming and reorienting agricultural systems to support food security under the new realities of climate change.
Researchers believe that widespread changes in rainfall and temperature patterns threaten agricultural production and increase the vulnerability of people who are dependent on agriculture for their livelihoods.
According to them, the threats can be reduced by increasing the adaptive capacity of farmers as well as increasing resilience and resource use efficiency in agricultural production systems.
They note that CSA promotes coordinated actions by farmers, researchers, private sector, civil society and policymakers towards climate-resilient pathways
Sen. Hadi Sirika, Minister of State for Aviation, while reviewing NiMet's report admits that the country is expected to experience below-normal rainfall season.
He observes that rains are expected to start late, especially in the northern parts of the country while the south eastern zone as well as the coastal areas will experience a normal onset of the rains.
He notes that most of the northern states will experience earlier-than-normal end growing season while shorter length of the growing season is predicted for most parts of the country.
He also says that there will be frequent and severe dry spell over the northern region during the rainy season.
"Dry spell will be more frequent and severe, ranging from 10 days to 18 days in some parts of the extreme north around June and July, while the little dry season or (August break) in parts of the south is expected to be pronounced.
"The expected below normal-normal rainfall in parts of the country does not rule out the possibility of isolated flash floods due to high intensity rainfall at the peak of the season, especially in places that are naturally prone to flooding.
"In every season, dry spells occur and in certain cases, lead to crop losses; farmers and other stakeholders are advised to get in touch with NiMet to access meteorological updates within the growing season.
"This is because these are risk factors for farmers in the affected areas and have to be carefully and scientifically managed.
According to Sirika, early release of the SRP before the beginning of rainy season is to ensure effective harnessing of the climate resource.
He agrees that such information will further guarantee minimal losses from associated hazards, which are becoming quite devastating in this era of climate change.
He says that an increase of at least 30 per cent agricultural yields can be achieved if relevant meteorological information is utilised.
Similarly, Prof. Sani Mashi, the Director-General of NiMet, says that farmers in the northern part of the country, mostly the Sahel zones are advised not to plant early as the country is likely to experience late onset of rains.
Mashi explains that early cessation of rains in the northern part will lead to shorter length of growing season and recommends early provision and access to improved and drought resistant variety seeds.
"Normal onset is expected over coastal and some south-east states while the earliest onset date is predicted to be from March 7 around the coastal region of the south-south region.
"The onset dates are expected to change towards northwards with areas around Maiduguri, Sokoto, Katsina, Dutse, Potiskum, Kano and Nguru having onset of rains from June 16.
"The earliest cessation dates are expected to be from September 29 around the north-western parts of the country while most of the north is expected to witness cessation dates within October,'' he explains.
He explains further that while the growing season is expected to end between late October and mid-November, parts of the central and southern states are expected to experience end of season by mid-November to early December while the season is expected to end by late December along the coast.
According to him, governments at all levels are advised to embark on awareness and sensitisation of farmers and other stakeholders on climate-smart agricultural practices such as on-farm water harvesting structures, soil and water conservation practices and land preservation.
"Farmers are also encouraged to make provision for irrigation water during the predicted periods of dry spell.
"The warmer than normal temperatures predicted in February and April are expected to affect livestock in some parts of the country, particularly the northern states where rainfall has not yet established.
"Decrease in fodder production from dry land, increase in vector-borne diseases, internal parasite infestation and mortality rate is likely to increase during these months due to temperature fluctuations, shell quality and egg weight in layers may also be affected.
"The colder-than-normal daytime temperatures in March may affect day old chicks and increase feed conversion ratio in layers and broilers while the spread of heat-related diseases is likely to as a result of the predicted warmer conditions in most parts of the country.
"Good veterinary practices for livestock-vaccination, fisheries and aquaculture management should be adhered to because fish production is likely to be adversely affected as a result of warmer-than- normal conditions especially in the northern part of the country,'' he warns.
By Sumaila Ogbaje