Scientists have warned on many occasions that the use of plastic materials, especially to wrap food, is harmful to human health and the environment.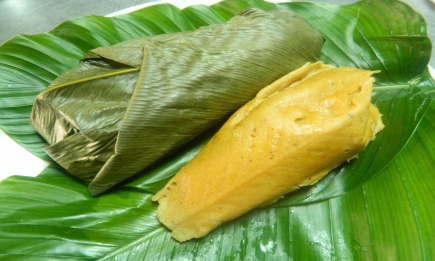 They call for the training of farmers in leaves cultivation to boost the production of wrapping leaves to phase-out the use of polythene bags.
Mrs Nnenna Didigu, an environmentalist and the Executive Director, Developing Communities for Sustainability Organisation, a non-governmental organisation, said that there were various chemicals disseminated from plastic bags like polyvinyl chloride which are harmful.
Didigu said that hot foods packaged in polythene bags are contaminated by these chemicals mostly when they are hot or heated.
"Those chemicals include styrene and Bisphenol A that can cause cancer, heart diseases and harm the reproductive organs.
"When hot food is packed in polythene and plastics, chemical exchange between plastic and food is maximised by high temperature and the nature of the food.
"There have been cases of environmental pollution as a result of used non-degradable polythene materials littered over the places, especially in city centres,'' Didigu said.
Didigu also called the attention of the public to a warning by some experts in the health sector that beans meal or "moi-moi'' wrapped in polythene bag could be poisonous.
"Added to this is the consumption of sachet water exposed to sun at a high degree is poisonous and as such has resulted in many cases of kidney and liver failures among Nigerians,'' she said.
The executive director said that unfortunately, most people consumed foods that were packaged with plastics.
She pleaded with the government to intensify efforts to control the problem and conduct awareness programmes against the use of polythene bags for hot food items.
Another environmentalist, Mr Richard Inyamkume, observed that plastic and polythene bags pollution was one of the most serious environmental challenges of the 21st century.
Inyamkume said that practice of wrapping hot foods in polythene bags and plastics had become prevalent in urban and rural communities across Nigeria.
"Nigerians need to know that plastics contain Bisphenol A), a chemical that once ingested, can mimic estrogen in our bodies, especially in adult women.
"In fact, scientific studies show that certain chemicals contained in polythene bags and plastics are capable of stimulating human breast cancer cell growth and can affect sperm production in adult males,'' he said.
Inyamkume said that pregnant women, infants and children were not exempted from its adverse effects once they come in contact with such chemicals.
"A study conducted in the U.S in 2004 found traces of Bisphenol A in 93 per cent of urine samples that were taken from a given sample population.
"This indicates that many humans already have traces of Bisphenol A in their systems and need to limit further exposures.
"One thing is certain, the more plastics are heated and cooled, the more chemicals in such containers begin to break down into our food.
"We need to let people know that for every encounter with a plastic container or polythene bag, especially when such is used in packing hot foods, our health is at risk,'' he warned.
According to him, people need to be aware so that they can take precautionary measures when handling hot foods and be aware of the adverse chemical effect of plastics when these come in contact with it.
"Though I understand that it is nearly impossible to run a fully equipped kitchen without plastics or polythene bags as most of the food we eat are even wrapped in polythene bags and plastics such as bread, peanuts and beans.
"We could do something to limit exposures to chemicals contained in plastics by opting for products that are free from plastic and polythene bag.
"We need to change our consumption attitudes and engage in healthy lifestyles, and also reduce plastic waste generated in communities,'' he said
Inyamkume said that it was also safer to use glassware to package or store both hot and cold foods instead of plastic materials.
"Majority of the plastics which we use contain toxic chemicals and their continued use could be linked to the occurrence of certain health challenges such as obesity, enlarged male breasts and increased prostate cancer, among others.
"I strongly recommend that citizens should consider the use of glass products for food handling in place of plastics because of its advantages.
"This is because glass is safer for packaging hot food or even liquids; it does not leach potentially harmful chemicals into food as plastics.
"Nigeria is facing plastics infiltration crisis, which threatens human health systems and our environment,'' he said.
Inyamkume said that Nigerians had indulged in the use of plastics for packaging or storing food and other substances without any fear of the potential harm which plastics could cause to the human body.
"I have observed with dismay that the demand for plastic products in the country is relatively high, when compared to the demand for plastics in other countries.
"Our people make use of plastics a lot for shopping or garbage bags, film packaging, wrapping of foods and fluids packaging as well as production of water bottles and toys, among others.
"This trend is unhealthy, as there are certain risks that are associated with plastics use,'' he said.
However, Mr Alade Adeleke, the Director of Programme, Environmental Management and Development Trust, a non-governmental organisation, called for training of farmers to boost the cultivation and production of wrapping leaves in the country.
"If the capacity of farmers is built on wrapping leave production, it will go a long way in addressing polythene and plastic pollution in the country.
"Our organisation provides the "Farmers Face School Training Programme'' in Ile-Iran community, Ayedire Local Government Area, Osun State, adding that the programme was held and delivered in each of the farmers' farms.
"We have carried out farmers face school programme in six places. For every farm we go, we distribute some farm material such as cutlasses, hoes and farm chemicals,'' he said.
Adeleke said that before the organisation inaugurated the programme, it started the nursery of wrapping leave.
According to him, wrapping leave which is called Thaumatoccocus danielli (or Ewe-eran in south-western Nigeria) is a kind of leave that is used for wrapping hot local food.
"Women use it in wrapping cake ("moi-moi'') and corn meal in major urban centres,'' the programme director said.
Adeleke said that the organisation had a nursery that had more than 10,000 leave sampling.
"We decided to be taking the leave from nursery to other places to plant in each of the farms where we go and do the farmers face school,'' he said.
He said that the training focused on the new approach to agro-forest production to bridge the gap of deforestation in south-western Nigeria, using Ileran and its environs as its local example.
According to him, the organisation chooses wrapping leave as element that makes the forest to look better.
"We also realise that people use polythene bags because of the depletion of forests and non-availability of wrapping leave.
"Our survey across the 10 towns of Osun and even in Lagos showed that wrapping leave is scarce and lack in demand.
"The need for wrapping leave is so high that everybody knows the implication of using polythene bag that is not degradable such as leaves,'' he said.
By Deji Abdulwahab, News Agency of Nigeria (NAN)