Tekmira Pharmaceutical Corp said on Thursday that the US Food and Drug Administration had modified its clinical hold status on Tekmira's experimental Ebola treatment to enable its potential use in humans infected with the virus.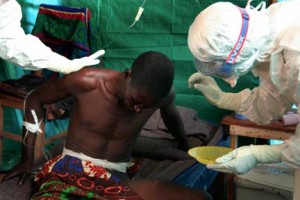 The FDA told Burnaby, British Columbia-based Tekmira that it had modified the full clinical hold on the drug to a partial clinical hold, the company said in a statement.
"We are pleased that the FDA has considered the risk-reward of TKM-Ebola for infected patients," said Dr. Mark Murray, Tekmira's chief executive officer. "We have been closely watching the Ebola virus outbreak and its consequences, and we are willing to assist with any responsible use of TKM-Ebola."
The recent Ebola outbreak has killed nearly 1,000 people in West Africa.
The World Health Organization on Wednesday said it would convene a meeting of medical ethics experts next week to consider the implications of making experimental Ebola drugs more widely available.
Tekmira's Ebola treatment is one of three worldwide that have shown especially promising results in monkeys, but it is unproven in humans.
Tiny California biotech Mapp Biopharmaceutical gained international prominence this week when its drug was given to two US aid workers who contracted Ebola in West Africa and have since shown signs of improvement.
Shares of Burnaby, British Columbia-based Tekmira surged 40 percent last week as the worst-ever outbreak of the Ebola virus intensified. The buying spree came even as human tests of Tekmira's treatment, TKM-Ebola, were put on hold last month.
Tekmira's drug has only been tested in a few dozen healthy people.
The FDA stopped its study in July because of safety concerns among people taking the highest doses of the drug who experienced problematic immune responses.
The hold meant that that particular study cannot proceed, but it does not prevent the company from submitting a new study proposal, say in people already infected with Ebola, for whom any safety risks from the treatment would be mitigated by the risk of dying.
In that case, "the benefit-risk ratio changes completely," a source within the FDA told Reuters last week. "Anything that would shift the risk-benefit to a more favorable outcome could potentially allow the authorization of that study."
In that case, the source said, a company would have a partial clinical hold in which the original study in healthy patients remained on hold and the new study in sick patients could proceed.
Tekmira stock finished trading on Thursday in Toronto up 6.6 percent at C$15.61, after a late rally prior to a trading halt pending the news.