Ogun State Government and the United Kingdom on Friday, November 15, 2019 signed a Memorandum of Understanding (MoU) in Abeokuta, the state capital, on urban renewal and public transportation.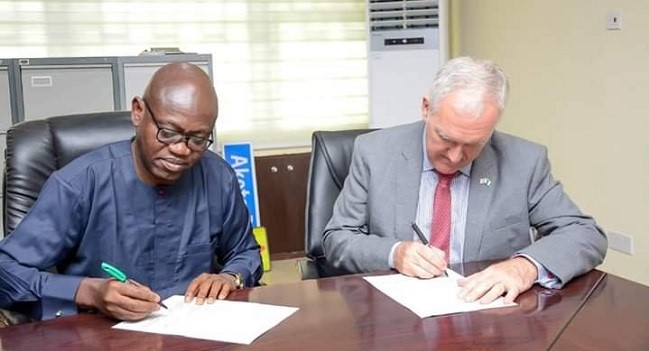 The agreement covers modern strategies to be put in place to accommodate the expected population explosion in the state and to address its effect on public infrastructure, especially transportation.
Secretary to the State Government, Tokunbo Talabi, signed on behalf of Ogun State Government, while a Counsellor and Head of Future Cities Programme, British High Commission in Nigeria, Guy Harrison, signed on behalf of the UK.
The partnership drive between Ogun State and British government was captured under a programme called "Future Cities Nigeria," a UKAID-funded urban renewal programme. It has a timeline of three years.
The programme's outline indicated that the UK would provide support for Ogun State transport sector and fast-track housing and urban development in Ogun, which is currently facing the challenge of absorbing spillover of the population explosion from Lagos State.
Speaking at the signing ceremony at the Governor's Office in Oke-Mosan, Talabi commended the initiative, saying it would complement the various efforts of the state government in its desire to plan for a common prosperous future for the people of the state and for physical infrastructure.
Talabi noted that the present administration was duly committed to providing the enabling environment for such partnerships to thrive seamlessly.
"We thank the British Government and the Future Cities Nigeria for these laudable initiatives targeted at planning towards the future in Ogun State. This level of support cannot be diminished because the Governor Dapo Abiodun led-administration is determined to change the narrative on how things are being done," he said.
These, he said, could be seen in the various interventions by the state government in road rehabilitation efforts, security of lives and property, as well as the ease of doing business strategies amongst many others.
"Our desire is to make Ogun State, a place where you could live peacefully, and work prosperously for the future," he added.