The Government of Kenya and the United Cities and Local Governments of Africa (UCLG Africa) are looking to sign an agreement establishing the East Africa Regional Office of UCLG Africa (EARO) in Nairobi.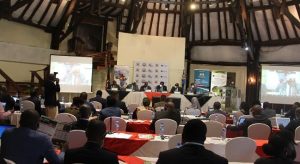 Eugene Wamalwa, Cabinet Secretary for Defense, who made the disclosure during the UCLG Africa regional caucus for the Eastern Africa Region that held from March 7 to 8, 2022, in Nairobi, said that the agreement is being made in the framework of the caucus and through the Ministry of Devolution.
The meeting was organised in collaboration with the Council of Governors (CoG) of Kenya, the Kisumu County Government, and the Ministry of Devolution of Kenya.
Wamalwa, in his opening address at the caucus, called on all the Member States from the East African Region, to be present in Kisumu, which will host the 9th edition of the Africities Summit scheduled from May 17 to 21, 2022.
Subnational and local governments associations of eight countries out of the 11 countries of the region took part to the caucus. They were the chairpersons and permanent secretaries of the national associations of subnational and local governments of the East African countries, as well as the chairpersons of the country chapters of the Network of Locally Elected Women of Africa (REFELA) and the Network of Young Locally Elected Officials of Africa (YELO).
The caucus was held in preparation of the 9th edition of the Africities Summit, which has "The Role of Intermediary Cities of Africa in the Implementation of the 2030 Agenda of the United Nations and the African Union´s Agenda 2063" as its theme.
Participants highlighted the importance of the coming Africities Summit as a platform for dialogue on decentralisation in Africa, exchange on best practices on the governance of African cities and territories across Africa, interaction between subnational and local government authorities with various stakeholders such as ministers, civil society, academia, private sector or development partners.
The Governor of Kisumu is of the view that the success of the summit will open the door to other intermediary cities in future to host the event.
The two days of the caucus allowed the participants to discuss the main agenda items of the Africities Summit in Kisumu and the way the East Africa Region should be present in the proceedings of the Summit. A special attention was called on the need for subnational and local governments of the East Africa Region to define the priority issues they want to put forward during the Summit's debates, the five questions they wish to table to ministers on the one hand, to development partners on the other hand, urging the tripartite dialogue Roundtable scheduled on May 21, 2022.
They also discussed the contribution of the Region in the special events organised during the Summit.