After Tuesday's U.S. election upset, climate change watchers and wonks are scrambling to assess what it would really mean if Donald Trump, true to his word, ditches or simply fails to participate in the Paris climate change agreement (which he could do through a variety of mechanisms). And it does indeed appear that the consequences for international diplomacy, and for the planet, would be considerable.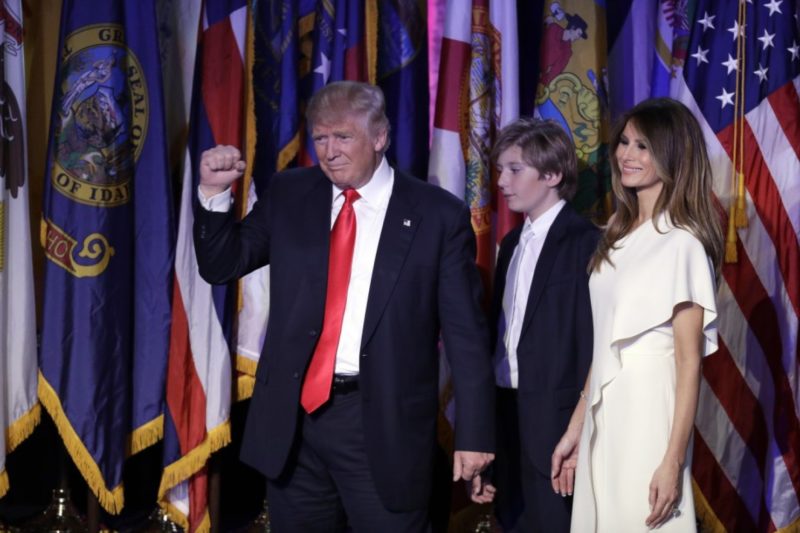 At the centre of the U.S.'s role in that agreement is its ambitious pledge to reduce its greenhouse gas emissions by 26 to 28 percent below their 2005 levels by the year 2025. Presumably, under Trump, we'd no longer see such significant cuts. Indeed, given Trump's campaign trail talk about firing up the domestic coal, oil, and gas industries, we might even see our emissions increase.
So what would it mean if the U.S. doesn't hit its Paris target, for whatever reason, due to actions taken (or not taken) under Trump?
According to an analysis shared with the Post by the D.C.-based think tank Climate Interactive (based in part on this analysis here), the effect is actually quite substantial. That's because a large percentage of the full emissions cuts produced by the Paris agreement come directly from the U.S.'s individual promise to take domestic action, said Andrew Jones, co-director of the group.
"Pulling out of the Paris agreement matters not just in leadership, but also in a direct impact on the climate," Jones said.
More specifically, Jones explained, Climate Interactive's analysis finds that the U.S. pledge amounts to the avoidance of 22 gigatons, or billion tons, of carbon dioxide equivalent emissions between the years 2016 and 2030. But all of the pledges, by all of the countries, only amount to the avoidance of a little over 100 gigatons. Thus, the U.S.accounts for around 20 percent of the total, which is not surprising, given the size of the country and the fact that it is the world's second largest emitter after China.
So what effect would that have on the Paris agreement as a whole? Noticing that one fifth of its emissions cuts have vanished, Jones said, "I think the rest of the world would be less likely to take action on their own part, and do their own share."
Granted, it is far from certain that a President Trump will be as hostile to the Paris accord as he sounded on the campaign trail – he will have to forge relationships with all these countries that want him to participate in global climate action.
"Governing is different than campaigning," said David Sandalow, a fellow at the Centre on Global Energy Policy at Columbia University. "The Trump team is about to confront that.  Following through on some of his campaign climate statements would come at a cost in terms of his administration's foreign policy objectives."
Sandalow added that the U.S. dropping out of the Paris process could be a boon to its other biggest participant in terms of its emissions – China.
"If the U.S. withdraws from the Paris Agreement, that would create a strategic opportunity for China," Sandalow said. "It would gain credibility globally by sticking with its climate plans even as the U.S. withdraws, helping the Chinese government advance its objectives on a range of topics."
Meanwhile, it's not just that Donald Trump's victory has upended the move towards global climate action – and will likely set the stage for reversal of Obama climate and energy policies at home as well.
The November 8 election also saw the defeat of an initiative in Washington State that would have imposed the nation's first revenue-neutral carbon tax, assessing a $25-per-ton fee on carbon dioxide emitted in the electricity, transportation, and other sectors and then using that revenue to reduce the state sales tax.
Initiative 732, as it was called, actually saw considerable resistance from the environmental left, which felt that revenues from such a measure should be used to advance other social causes, rather than be returned to taxpayers. By the end, a strange bedfellow allegiance had arisen in which some on the left had effectively joined forces with some fossil fuel interests to oppose the carbon tax, even as many climate scientists and economists supported it.
The tough politics hurt the measure even in Washington State's populous and very liberal King County, the home to Seattle, where the initiative barely won a majority. In contrast, King voted for Hillary Clinton by 73.9 percent. Statewide, 58.1 percent of Washington voters ultimately said "no" to the carbon tax initiative.
To be sure, in the context of the bombshell election and its broader negative implications for international climate action, the loss in Washington hardly felt significant.
"In the scheme of things it doesn't really count for much, and I would say that even if it had won, because we're in for many years of backsliding on climate at a time when we really had to ramp it up," said Charles Komanoff, director of the Carbon Tax Centre.
By Chris Mooney (The Washington Post)