Waste management or waste disposal has been a challenge for the Lagos State Government for decades.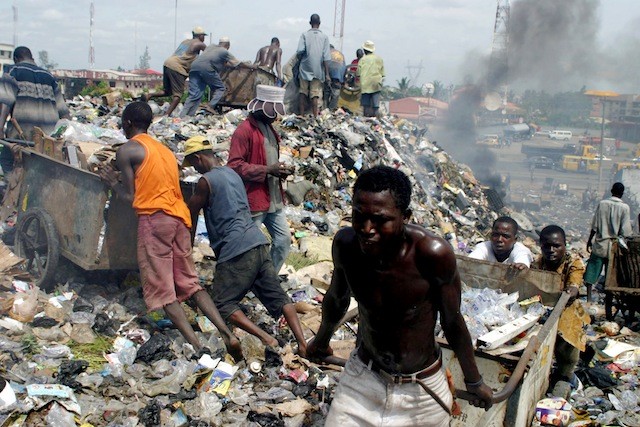 The government has adopted several strategies to manage the whopping 15,000 tonnes of garbage generated daily in the over-crowded city-state that receives immigrants almost on a daily basis from other parts of the country and beyond.
Thorough the responsible agency, the Lagos State Waste Management Authority (LAWMA), government had in the past explored several measures such as the use of private sector players (PSP), which are facing stiff competition from the infamous but somewhat preferred cart pushers.
In a bid to achieve better results, LAWMA has also attempted managing waste through characterisation, improved technology and partnering with other nations.
However, only limited success has been achieved. Indeed, health hazards due to the activities of the PSPs, the ageing equipment they deploy, sharp practices by cart pushers, and the sorry state of the waste dump sites have all colluded to put the situation in a state of desperation.
The need for an urgent action to turn around the conditions cannot be over-emphasised.
In fact, there is the need for an elaborate and standardised regulation of the environment of Lagos State, in line with international best practices, while taking cue from locations such as the United Arab Emirates, Tanzania, Kenya, Namibia, and New York City in the United States.
Lagos and New York City, for instance, are two mega cities that mean the same in terms of entertainment, commerce and global trends. While Lagos has a population of 21 million with an estimated population density of 13,405/sq.km, New York City has a population of 23 million with a population density of 10,833/sq.km.
In fact, while New York with its huge population has been able to successfully handle the massive amount of waste generated daily, Lagos, on the other hand, is struggling with storage, collection and disposal of her waste.
New York has about 120 landfills sites while Lagos has only six landfills, with only three of the six functioning. This is grossly inadequate for the Lagos metroplois, considering that she generates approximately the same amount of waste as New York does, even so, a huge percentage of this is solid waste.
Asides struggling with disposal of the enormous amount of waste generated daily, Lagos has not been able to effectively collect her waste. This is exemplified as waste littering roadsides, waste being disposed into drainages, and overflowing public bins, among several others. There is a huge gap in collection and the PSP operators obviously struggle with the huge amount of waste they have to collect.
New York has successfully been able to collect her waste through several methods including government-regulated commercial waste systems in which they have over 250 commercial waste haulers, as well as dispose effectively through recycling methods and landfills. In that part of the world, waste is wealth. In Nigeria, and Lagos to be precise, waste is a curse rather than a blessing – its simply a disaster waiting to happen.
It has been shown that only 60% of the daily waste collected in New York go to the landfills compared to about 95% in Lagos.
Lagos must, as a matter of urgency, start recycling as an alternative to landfilling. It has been seen that the heavy reliance on landfills has brought about environmental pollution and several health hazards to residents around the sites as seen in the Olusosun landfill, which today remains the largest landfill site in the country.
The Olusosun dump site is nothing but as a disaster waiting to happen and the need for a quick action from government is long overdue. The dump site at Isolo also requires an urgent intervention from the authorities.
There is likewise the need to allow for a coordinated and effective private sector participation in the management of the environment, as well as the provision for an organised judicial framework for the administration of environmental laws in Lagos State in other to make this happen.
Similarly, there is the need to explore newer methods of collection to help effectively handle the waste generated. Other collection agencies need to be employed as it is obvious that the PSP operators alone can't handle the massive amount of waste.
The Akinwunmi Ambode administration should tackle this hydra-headed problem without minding whose ox is gored. The speed and enthusiasm with which the present administration tackled the Light-up Lagos initiative should be deployed to combat this age long problem that has now grown to become a monster.
The recent clean up exrcice embarked upon in highbrow areas of lagos like Victoria Island, Lekki and Ikoyi should be extended to the waste management sector.
Government must, as a matter of urgency, seek help from those who have managed waste in mega cities around the world, while bearing in mind the nation's – and the state's – peculiar solid waste generation status.
By Adebayo Samuel (Ojota, Lagos-based environmental rights activist; shamueldebayo2080@gmail.com)