Thousands of students took to the streets of India, Bangladesh, and Poland on Friday, September 20, 2019 to demand action against global warming.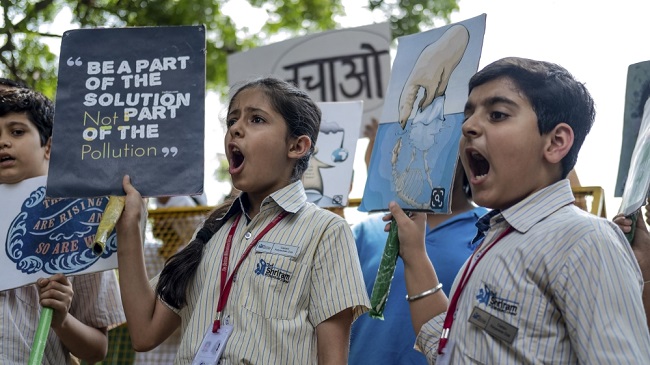 Students skipped school across India, demanding more climate protection and an end to severe pollution in the Asian country, the planet's third-largest emitter of greenhouse gases.
Students and environmental activists gathered outside the Ministry of Housing and Urban Affairs as well as the Environment Ministry in New Delhi, one of the world's most polluted cities.
"We are here to reclaim our right to breathe, our right to live and our right to resist," young activist Aman Sharma said in Delhi.
The protestors shouted slogans like "There is no Earth B. Climate Action Now!"
However, environmental campaigners lamented that there was not enough awareness about pollution among Indians yet.
Although organisers said thousands had joined protests by the evening, activists pointed out that the turnout was not that big for a country with a population of 1.3 billion people including millions affected by pollution.
Several thousand Bangladeshi children also marched on the streets of central Dhaka on Friday, asking the government to announce a "climate emergency" to let the world know that Bangladesh was one of the nation's most vulnerable to the effects of climate change.
"(A climate emergency) will help the people in other parts of the world to perceive the risks Bangladesh is facing because of the climate change," reads a memorandum that the children submitted to Prime Minister Sheikh Hasina through the local administration after the march.
In Poland, many of them teenage students, took to the streets of over 60 cities in the country to demand action against climate change, joining the worldwide Fridays for Future initiative.
At least several thousand people converged on Warsaw's Constitution Square in the morning hours.
The young and enthusiastic crowd held banners with environmental slogans, jumping and chanting "Who doesn't jump supports coal" ("Kto nie skacze ten za weglem").
Poland currently relies on coal and lignite to produce some 80 per cent of its electricity.
In its draft energy strategy to the year 2040, that share is forecast to decrease to some 30 per cent in favour of wind, solar, natural gas, and nuclear energy.
"The UN climate summit in New York is about to start. The Polish government apparently is going there devoid of any plan.
"We demand that such a plan be created.
"We want to establish a scientific committee of experts which would devise a strategy of economic and social transformation so that we can reach climate neutrality by the year 2040," one of the organisers, 17-year-old Antoni Wisniewski-Miszal told dpa.
Other demands include declaring a state of climate crisis in the country and introducing mandatory education on climate change on all levels of schooling, the organisers wrote on the event's Facebook page.
In Warsaw, the protest will be followed by a week of educational and cultural events in one of the city's main squares.