The month of June 2023 has recorded devastating infractions in the weather, with attendant havoc in communities and environments in Africa.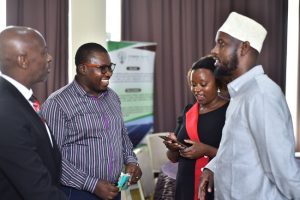 Downpours in various regions have caused severe flooding, leading to submerged homes, destruction of property, displacement of people, and in some instances loss of lives.
These are exacerbated by climate change and the impacts point to a crisis.
However, there has been a gap in African newsrooms in telling the African climate story and the urgency of the climate crisis.
A recent review of how Africa is covered in climate news shows there is a need to elevate Africa's voice and perspectives in the media as part of driving climate action on the continent.
To amplify the voice of Africa in the climate change narrative, the first Africa Editors Climate Forum was convened by the Kenya Editors Guild and Powershift Africa, under the coordination of AfricaonAir.
The Forum, held in Nairobi, Kenya, brought together editors from parts of the continent to discuss ways to enhance the coverage of climate change issues in African newsrooms.
Participants shared experiences and discussed the state of climate change reporting in Africa and challenges newsrooms face, while exploring new opportunities and creative approaches to climate reporting.
Chief Executive Officer of Kenya Editors Guild, Rosalia Omungo, said editors who are the gatekeepers have the responsibility to ensure a clear and accurate message is out.
"Reporting matters like climate change must adhere to the basic tenets of accuracy and credibility. Credibility goes beyond and goes out of the source of data. Journalists must go beyond the science and reflect humanity," she stated.
She also emphasised the importance of cross-border reporting to enhance the climate narrative across the African continent.
Researchers and experts in climate change, energy and sustainable development shared perspectives to help in framing stories to offer solutions in climate change challenges.
Kenya's special envoy for climate change, Ambassador Ali Mohamed, noted that Africa is a victim of climate change and therefore needs support to overcome the impacts of climate change.
The African continent emits less than 0.5percent of global carbon emissions but remains the most vulnerable to climate change.
In pushing for the operationalisation of the Loss and Damage Fund, the envoy said Africa would continue to push for what is legitimate.
"We need to take a hard look at the resources we have on our doorstep. Africa has critical mineral potential, land size and immense potential for renewable energy," said Ambassador Ali.
Critical issues of interest in the climate narrative include climate finance, adaptation and mitigation.
Programme manager at PowerShift Africa, Fatuma Hussein, called for strong collaboration and engagements between newsrooms and climate scientists to build resilience and drive sustainable development in Africa.
By Kofi Adu Domfeh