Some civil society organisations (CSOs) have called on the Federal Government and legislators to take action and make a robust legislation to regulate the inflow of pesticides and other chemical products into the country.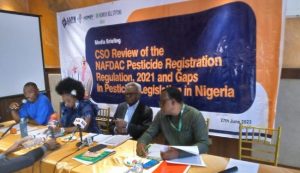 The CSOs, which are Alliance for Action on Pesticide in Nigeria (AAPN), Health of Mother Earth Foundation (HOMEF) and Heinrich Boell Stiftung, made the call at a news conference on Tuesday, June 27, 2023, in Abuja.
Mr Donald Ikenna, Lead Coordinator, AAPN/Programme Manager, Heinrich Boell Stiftung, said the news conference was as a result of the CSOs review of the National Agency for Food and Drug Administration and Control (NAFDAC) pesticides regulation framework.
He said that the purpose was to make known some lapses in the NAFDAC regulation document/framework, and the need to call for a robust legislation on the control of chemicals.
"More than 90 per cent of Nigerian farmers do not know the chemical to apply on their farms, and food-eating consumers do not also know the amount of chemicals in their food.
"Farmers do not read product labels on pesticide products due to illiteracy, and they also do not use Personal Protective Equipment (PPE) since some of these products are not sold in agrochemical stores.
"Nigeria has no pesticide legislation, which means that no direct section of the law empowers anyone or agency to implement a sanction on pesticide abuse on Nigerians," Ikenna said.
The AAPN Lead Coordinator further said that the only thing saving Nigeria from being a dumping ground for chemical pesticide from international agrochemical companies was the existing bureaucracy.
He added that the inter-agency/ministerial overlaps in the current structure also prevented Nigeria from being a dumping ground.
He called for a robust single legislation that would pass through the National Assembly, and regulate the importation of those banned chemicals/pesticides from Europe into Nigeria.
Oreoluwa Adeyemi, a Legal Practitioner and a Consultant to AAPN, alleged that allowing bulk amounts of pesticide into Nigeria was contained in NAFDAC's regulatory framework.
She said that bringing in these pesticides without registration and testing could bring about abuse of such products.
She said that the section of that framework if left at the discretion of NAFDAC could be abused, and could cause a flood of untested and unregistered chemicals into Nigeria.
Adeyemi added that food safety was a public health issue that could not be handled secretly.
"Such a decision should be taken at a large inter-ministerial committee or council, like the National Council on Chemical Management (NCCM), and made public.
"The five year validity period of NAFDAC regulatory framework is too long, as it is globally recommended that the effect of pesticides should be analysed and assessed at least once in three years.
"Most countries with standard pesticide regulations prescribe a period of three years as the validity period.
"It is therefore recommended that the life span for registration should be revised to three years to make it in tandem with global best practices.
"It is worthy to note that NAFDAC regulations focuses only on registration of pesticides in Nigeria, while neglecting other important regulatory aspects required to control the production,'' Adeyemi said.
Prof. Simon Irtwange, Co-Founder and Leader, AAPN/President, Yam Farmers and Processors of Nigeria, however, commended NAFDAC's efforts on the pesticide registration regulation 2021 framework.
According to him, in 2021, there was a bill for an act to provide for the establishment of the Nigerian Pesticide Council and for other related matters HB 1396, sponsored by a House of Representative member, Rep. Muntari Dandutse Mohammed.
He said that the bill had gone through the first and second reading in the house, and had gone through the public hearing and technical committee section.
Irtwange said that the bill was supported by the Farm Input Support Services (FISS) and Crop Life, in which AAPN actively participated in all the sections.
He said that in 2022, one of the supporters of the 2021 Nigerian Pesticide Council, FISS, proposed a retreat on the basis that Crop Life, an internationally dictated company cannot be on the council to police pesticide in Nigeria.
He said that FISS also opted for a bill to repeal the National Fertiliser Quality Control Act, CAP No 23 Laws of the Federation of Nigeria 2019.
Irtwange said that FISS wanted an enactment of the National Fertiliser and Agricultural Pesticide Control Bill 2022 to provide an improved framework for manufacture, importation, sale and distribution of fertiliser and agricultural pesticides in Nigeria and other related matters.
He called for development of a holistic regulatory system that would handle both fertiliser and agrochemicals in a coordinated manner as obtained in other Economic Community of West African States (ECOWAS).
Prof. Johnson Ekpere, Advisory and leader of AAPN, also called for a separate legislation to regulate pesticide/chemical control in Nigeria.
He alleged that the Nigeria government was not proactive enough in the areas of legislation, adding that effort must be made to regulate pesticides and chemicals inflow in the country.
Mrs Mariamme Bassey, Co-founder and leader, Environmental Rights Action/Friends of the Earth Nigeria, called on authorities to live up to the expectations of Nigerians, and not to compromise their rights.
She said that people's lives must take a priority over profit, and that the government must think about the people and not only how to make money.
By Aderogba George