The Tanzanian state has been accused of violently seizing 1,500 km2 of Maasai ancestral land in Loliondo, a town situated in northern Ngorongoro District of Arusha Region in Northern Tanzania.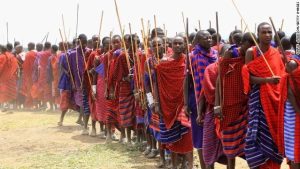 On June 3, 2022, the Minister for Natural Resources and Tourism, Damas Ndumbaro, said in Parliament that 1,500 km2 of village land in Loliondo and additional land in Lake Natron would be "upgraded" to Game Reserves.
Several days later on June 6, the Arusha Regional Commissioner John Mongela, reportedly said the demarcation of the Game Reserve would be implemented. On the same day, Parmwaari Merika, chairperson of one of the villages in Loliondo, who has been very vocal in the resistance against the project, was allegedly arrested in his home. Some nine councilors and district chairmen are also said to have been detained in unknown locations since June 9.
Clashes between resisting locals and security officials have reportedly led to about 31 people (18 men and 13 women) injured, and one Maasai man dead.
Over 700 children, women and men have reportedly fled the violence being inflicted on them by crossing the border.
According to the Forest Peoples Programme, the government land acquisition is proceeding despite the impacted village of Ololosokwan having land tenure ownership under Village Act number 5, and despite the East African Court of Justice having issued a court injunction against the state harassing or evicting the community in 2018, ahead of the EACJ's expected ruling on June 22, 2022.
Government has however denied the allegations, claiming that there are no wounded people in hospital. The President, Samia Suluhu Hassan, has been accused of not responding to the plight of her people.
A Maasai elder said: "The Government is establishing a hunting park where the Royal families from Dubai can hunt freely. The Maasai community is protecting both their rights and rights of wildlife. This pristine land that is protected and taken care by the Maasai has been given to a royal family from Dubai for sport hunting.
"Loliondo is burning brother. The police are using force to place beacons in the middle of village lands. This morning community members were injured as they try to stop the process. Stand with us."
Another Maasai community representative said: "There are thousands of police and soldiers. They are going into homes and beating people at night. People are hiding. Women are being shot. My female relatives have been shot. Journalists are intimidated into not reporting."
A Maasai woman said: "Why don't Government allow us to continue protecting our land rather than give it to investors? Our plea is that Government should leave us to be custodians of our land. We want our cry to be heard and our constitutional rights to be respected. All funders should stop funding these criminal injustices being perpetrated on our lands."
A local traditional Maasai leader said: "Imagine your home is burned in front of you to clear your land for foreigners to hunt. Imagine not being able to graze our cows as we have done for millennia – because of the restrictions imposed by the government to protect a foreign company that is only hunting the wildlife, with whom we have been together for time immemorial!"
A local Maasai activist and community representative said: "The government has broken all the promises, pretending to have received the consent and agreement of the local community, that were made when the Serengeti National Park was established. This is a direct violation of our living rights. For 30 years, since the conflict in Loliondo began we have suffered three major evictions – in 2009, 2013 and 2017, legitimised by the government's conservation agenda, which have led to great violence, abuses, harassment towards the communities and long-term economic and cultural loss. If this land is grabbed, over 50,000 people will be left without a home.
"We Maasai Indigenous community are appealing for international support so that our land and our rights are respected. The myth of 'Protected areas' takes away not only our rights as people, but our ability to exercise our responsibilities related to land. Our symbiosis that connects us with spirits, animals, plants, water and land will be disrupted if this land is taken away from us. Tanzania is a signatory to the United Nations Declaration for the Rights of Indigenous People (UNDRIP) that underpins the principle of Free, Prior and Informed Consent. We want the Tanzanian government to immediately stop the plan of evicting us from our ancestral land and wait for the court case to be determined."
A local traditional Maasai leader said: "We have nowhere else to go. Losing this land will mean the extinction of our community. We have taken care of our environment and lived in harmony with other living and nonliving things. And we are not ready to lose our traditional lifestyle we have lived for times immemorial. Tourists flood our homelands in every area to see and wonder how we have been able to maintain a balance between our lives and nature. Pastoralism is compatible with conservation. Many studies have confirmed.
"Over 70% of our homelands has been taken for conservation and investment reasons. We are appealing to human rights organisations, media and other citizens who value Indigenous human rights to share our plight and put pressure on the government of Tanzania to respect the rights of its citizens, and particularly Indigenous people. We are capable of conserving and taking care of our environment more than anyone, and we have demonstrated that for so long."
"We will not leave. Not now. Not ever," vows the Maasai community.