The German-Nigerian Hydrogen Office on Thursday, May 26, 2022, hosted the first German-Nigerian Symposium on Green Hydrogen in Abuja, the federal capital city.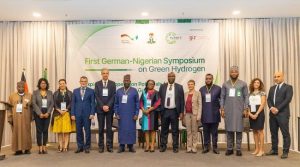 The Hydrogen Office was established in 2021 to expand the activities of the German-Nigerian Energy Partnership. It forms a part of the Global Hydrogen Diplomacy (H2-Diplo) project, which is implemented by the Deutsche Gesellschaft für Internationale Zusammenarbeit (GIZ) GmbH and financed by the Federal Foreign Office (AA).
The Symposium was attended by high-profile speakers in the energy sector and delegations from Nigeria and Germany.
Nigerian Minister of Power, Abubakar Aliyu, in his welcome address expressed gratitude for the existing cooperation between Germany and Nigeria in the framework of the energy partnership.
He looked forward to further cooperation, especially on renewable energy and hydrogen. He further remarked that "Nigeria is keen on exploring the possibilities that the nascent hydrogen economy could create for our energy transition, and we are very interested in establishing a fruitful dialogue with Germany on this topic."
The Director-General for Climate Diplomacy, Economic Affairs, and Technology, German Federal Foreign Office, Oliver Rentschler, in his goodwill message, said the partnership would not only enhance the dialogue on green hydrogen but also intensify the economic relations and dialogue on the expansion of renewable energies between our countries.
In her remarks, the Country Director, GIZ Nigeria & ECOWAS, Ina Hommers, emphasised the objectives of the German-Nigerian Hydrogen Office which aims to support Nigeria in exploring the potentials of green hydrogen and consequently foster the sustainable transformation of the country's industry and economy.
Also present was Mohammed Abdullahi, Minister of the Environment, who reminded the audience that "Green Hydrogen, as a low carbon fuel, has been identified to play a major role in the energy transition towards decarbonisation and reducing the speed of global warming, and meeting global climate targets like the Paris Agreement."
The launch was closed off by Gina Lagunes, Head of the German Nigerian Hydrogen office who, in her closing statement, said: "To ensure future economic stability, Nigeria, as a traditional fossil fuel exporting country with existing oil and gas infrastructure and know-how, can use this trend as a momentum to transition towards sustainable energy."
She also shared the tasks of the Hydrogen Office, which are facilitating the political dialogue, engaging all relevant stakeholders in the conversation, capacity building, and cooperating with the private sector to empower companies to get involved in the new market for hydrogen and its derivatives.
The Paris Agreement on Climate Change considers the global energy transition to be the backbone of increased climate protection. As a result, governments, businesses, and international organisations are pledging to increase their efforts to reduce greenhouse gas emissions and increase the use of climate-neutral energy sources.
Therefore, traditional fossil fuel exporting countries like Nigeria might use changing demand patterns as a springboard to transition to sustainable energy industries, such as green hydrogen and its derivatives. This ensures future economic stability and satisfies the net-zero emissions targets
By Samuel Ajala, Dataphyte