The CEO/Founder, Fresh & Young Brains Development Initiative (FBIN), Nkiruka Stella Okonkwo, speaking at the National Youth and Women in Agriculture Seminar organised under the 2022 National Agricultural Show, states that, to curb the food security challenges, the welfare of youth and women in agriculture should be prioritised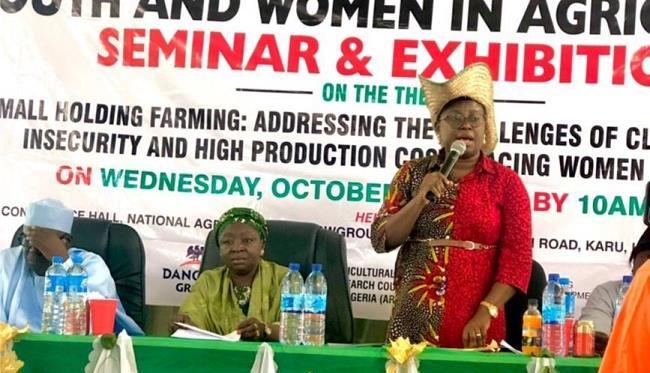 At the Youths and Women Seminar, we bring stakeholders across Nigeria together to talk about how we can address the challenges that women and youths in small holder agriculture face, especially around climate change, insecurity and high food production cost.
We have seen what is going-on with flooding across the country, some of our farmers are not able to come today because most of their farmlands were washed-up in Kogi, Anambra, Benue and other parts of Nigeria.
One of the main purposes of having this, for this year, is for us to look at three key issues that face youths and women in small scale agriculture; the first one is climate change.
Secondly, because of the insecurity in the country, some farmers are not able to go to their respective farms anymore and everyone is already aware of what that could do to the food economy in the country. Thirdly, the high production cost.
The idea is to bring together the women and youths in agriculture as stakeholders for us to start brainstorming on ways to address the challenges that the women and youths face in the agriculture sector; and so, we have institutions, private sectors, farmers associations, civil society groups, academia and research institutes, among others in the country.
So, part of what we have done today and what we have been doing over the years is to provide a platform where the women and youths in agriculture would have an opportunity to exhibit for free what they have been able to produce from their farms and have that opportunity to be mentored on how to improve in their respective businesses.
And, to encourage what they are doing from those that are exhibiting, we have the winners, and we have the top three. Today for instance, we have Kogi State Appeals Programme of the World Bank coming third; followed by Benue State Value Chain Development Programme coming second, and the Lagos State Appeals Programme coming first.
On Friday they would be receiving their awards from the organisers as a way of saying thank you to them.
I am very particularly happy that the Media Personnel are here because you have a key role to play, if you don't let Nigerians to know what is going-on, the challenges that people are facing now and the solutions that are coming out, the government would not know.