Indonesian climate activists suited up in Power Rangers costumes and as parodies of G7 leaders in front of the Japanese and United States embassies on Friday, October 29, 2022, to challenge G7 leaders to shun false solutions ahead of the G20 Summit in Bali.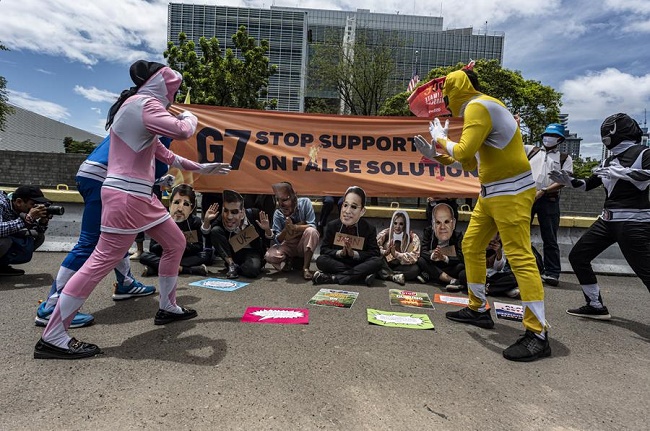 The 17th G20 Heads of State and Government Summit will take place from November 15 to 16, 2022 in the Indonesian city. The Summit, according to the organisers, will be the pinnacle of the G20 process and intense work carried out within the Ministerial Meetings, Working Groups, and Engagement Groups throughout the year.
Activists from 350 Indonesia, Climate Rangers Jakarta, Extinction Rebellion, Koprol Climate, Market Forces and BEM FMIPA UI organised the satirical cycling action, where youth asked G7 countries not to fund false energy solutions.
Jeri Asmoro, 350.org Indonesia, says: "As we know the G7 countries have enormous economic power, and with great power comes great responsibility. G7 countries are also very large emitters of greenhouse gasses, and it is their historical responsibility to ensure the world can make a fair energy transition without false solutions."
Sisilia Nurmala Dewi, 350.org Asia Managing Director, says: "Leaders attending the G20 in Indonesia and COP27 climate summit in Egypt in November are expected to tout increasing investment in and exploration of oil and gas resources. These are not in line with the goals of the Paris Agreement, and definitely not part of a just energy transition.
"We are imploring leaders, particularly the economic giants of the G7, to ensure funding mechanisms for an energy transition don't include false solutions that will lock us further into climate chaos."
Ary Jnr, Extinction Rebellion, says: "Climate science has made it clear that investment in fossil energy will have to drop drastically if we are to limit temperature rise to 1.5 celsius. Investing in new gas projects is threatening the achievement of climate targets."
Rivani, Koprol Climate says: "The use of technology to keep using fossil energy, such as oil, gas and coal, is a false solution. In this regard, ahead of the G20 summit, we urge G7 countries not to accommodate false solutions in funding mechanisms for an energy transition."
Activists also signed an Open Letter containing their demands to the G7 countries.
Ginanjar Ariyasuta, Climate Rangers Jakarta, says: "On this Youth Pledge Day, we take to the streets to reject our future being damaged by the climate crisis. Youth don't need fake solutions that ignore the root of the problem. The use of fossil fuels must be stopped immediately, the use of technology or fossil energy that is relatively cleaner is not enough.
"The situation is dire and a just energy transition to 100% renewable energy must be taken seriously. This letter is the message from young people to G7 countries, not to give room to the funding of fake solutions."