In February of this year 2019, bulldozers returned to the superhighway construction site in Cross River State, in an apparent defiance of the 23 conditions laid down by Nigeria's Federal Ministry of Environment for the Cross River State Government to meet before further work on the site.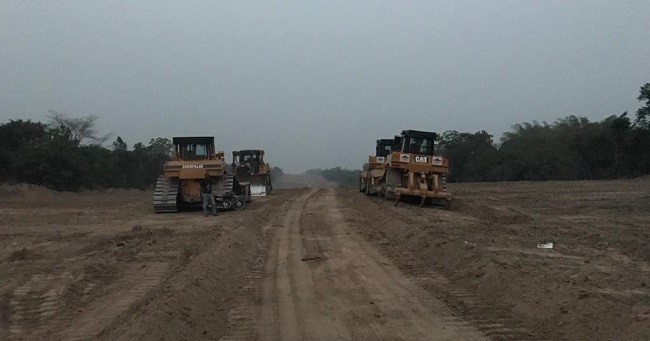 It will be recalled that the superhighway is one of the ambiguous and the most controversial "signature projects" of Governor Ben Ayade since his assumption of office in 2015, defying EIA requirements, threatening the critical and fragile ecosystems including protected areas and rich community forests, and destroying farms and other livelihoods sources of forest-dependent communities.
Early this year, communities along the superhighway route, especially Okuni and route close to Etara and Ekuri-Eyeyen, woke up to the sound of bulldozers even when the Cross River State Government has met none of the 23 conditions laid down by the Federal Government.
At the heels of the new commencement of work on the superhighway, the communities of Etara and Ekuri-Eyeyen staged a protest demanding for compensation of crops and farmlands that were destroyed the first time, and complete valuation of the impact of the project on their community with attendant safeguards.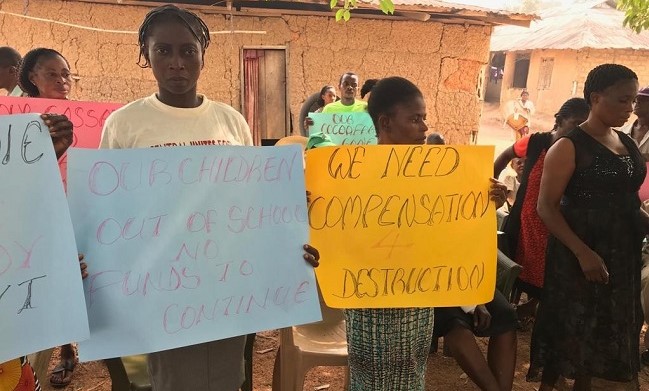 Speaking during the protest, Mr. Hart Akpama, one of the community leaders, said: "We have cocoa farms, yam farms, we also have bush mangoes. The bush mangoes we have in our forests, these are the ones we were harvesting to get money for ourselves. Most of these trees have been bulldozed. So we were taken by surprise."
Mr. Michael Odora is a farmer in Etara, submitted: "I farmed cocoa and plantain, but the farm was destroyed. It has affected by life very negatively. I find it difficult to feed my family. My children are in school. I find it difficult to pay their fees and, even as we speak, they are disturbing them up and down. We are crying to the government to see how they can help our people because our people are suffering as a result of that."
According to observers, the superhighway construction that cleared their forests and farmlands was without recourse to their wellbeing.
This appears to be the reality in many homes of communities where the Cross River State Government's superhighway project passes. With the Ben Ayade led government's seeming failing to adhere to Federal Government regulations and standards, and an apparent indifference to the sufferings of communities caused by the project, Etara and Ekuri-Eyeyen have finally joined the league of several communities and groups to file a lawsuit against the state government.