Aggrieved ex-staffers from illnesses of the British America Tobacco Nigeria (BATN) have demanded that the Nigerian government penalise the company for inhuman treatment to workers in its Ibadan factory in Oyo State and compel it to compensate them for the impacts of the health hazards they now contend with.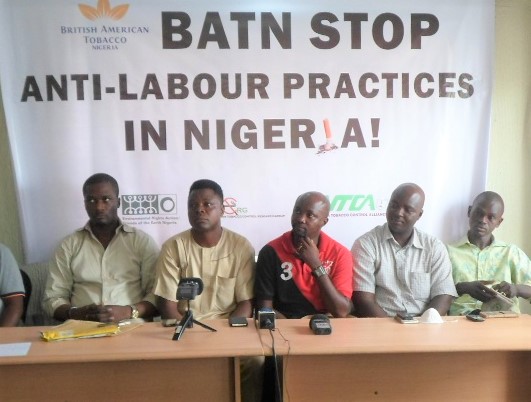 Seven of the company's disengaged staff at a press briefing in Lagos on Tuesday November 23, 2016 said, among others, that they were exposed to raw tobacco leaves, worked in poorly-ventilated environment, suffered various illnesses and unceremoniously discharged from work due to the condition they found themselves.
Some of the ailments they suffer include high blood pressure, posterior and anterior rupture, asthma and chronic sinusitis.
Some of the ex-staffers are: Dasilva Ayodeji, Winston Ofulue, Awe Ayodele and Alabi Adekunle. Others are Folarin Shasudeen, Makinde Timothy, and Jokanola Folarin.
At the press briefing which had "BATN stop anti-labour practices in Nigeria!" as its theme, BATN ex-staff, Folarin Shamsudeen, explained that, due to the poor conditions of the tobacco company's factory in Ibadan, he was exposed to tobacco harms that led to chronic sinusitis, high blood pressure and ingrown nail toe. He lamented that the company disengaged him when the situation degenerated.
Dasilva Ayodeji revealed that he could no longer work well due to the pressure of the work and had to depend on clutches to move.
The workers asked the Nigerian government to stand up for the workers' rights just like the governments of other nations that had closed down tobacco firms did, adding that the Nigerian government should enforce laws that prohibit anti-labour practices by industries operating in the country.
Earlier, Dr. Akin Adebiyi, coordinator, National Tobacco Control Resource Group (NTCRG), said the press briefing was aimed at creating a platform for the workers to tell the world how working for BATN had obliterated their lives and how the company has failed to take responsibility for ill-health arising from exposure to tobacco dust and poor work conditions.
Adebiyi said that, statutorily, the worker should not be made to find out by himself the hazards to which he has been exposed to at his own expense. "It is the responsibility of the company to inform the staff what hazards they are exposed to. If BATN did not do this as these workers have explained, it is a failure on their part and they must take responsibility for it," he stated.
In the same vein, Akinbode Oluwafemi, deputy executive director of Environmental Rights Action/Friends of the Earth Nigeria (ERA/FoEN), said that the BATN infractions in Africa have continued to mount.
He explained that, in 2015, it was BATN complicity in the Ugandan bribery scandal which the BBC aired and Philip Morris International illicit cigarette imports into Nigeria between September 2015 and March 2016.
Oluwafemi noted that the ex-BATN staffers are real victims of the tobacco industry as, according to him, "they had believed BATN publicity stunt on how its factory in Ibadan would add to the local economy through so-called employment generation. But, alas! They are today victims of an industry that not only markets a lethal product, but also ensures those that it engages for work do not leave its employ in one piece."