The Nigerian civil war shattered the lives, hopes and aspiration of millions of people, especially those from the Igbo tribe in South Eastern geopolitical zone of the country.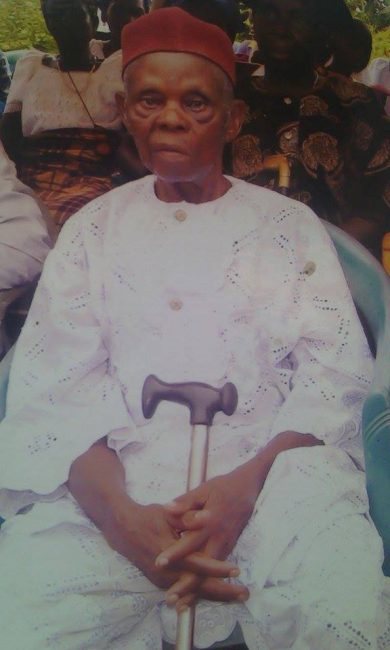 But a good number of the war victims have been able to pick together the pieces of their lives, working exceeding hard to attain a great height of achievement.
One of them is Mazi Simon Obong from the remote town of Arochukwu, in Abia State, who is reputed for producing six university graduates, most of who are now gainfully employed.
The centenarian, now bed-ridden due to old age, achieved the feat when a greater percentage of people in his town of sojourn could not even send their children to high school, and never even bothered to educate the female children.
In-spite of this, the great grandfather, says he is hugely unfulfilled.
His greatest regret is the Nigerian Civil War, which drove him and his kindred out to the Cross River State rainforest, known then for its rich biodiversity, offering inhabitants wide range of fauna and flora for food, and providing perfect atmosphere for the thriving of agriculture and green growth.
"My children are capable of taking care of me. I eat whatever that I want to eat, but life is not about eating and drinking. It is about the things you could achieved with your God given talents and strength," Obong who said he is a few years short of 100 remarked in a chat.
His wife had named their first dog after the war, "Ihe aha merem", an Igbo phrase when translated means: "What the war did to me".
The two and half year-old civil war in Nigeria which reportedly claimed the lives of between 500,000 and two million Biafran civilians who died mostly from starvation, had great impact on Arochukwu who, like others lived in parts of Cross River State after fleeing their homes, leaving behind their life's earnings including houses, money, wares and farms.
Most of the survived war victims had reportedly scattered in different farming based remote villages in South East Nigeria, involving in hard labour to be able to earn a living and train their children.
When told to react to the plan by the Cross River State government to construct a 6 lane super highway passing through the state's rain forest to link northern Nigeria, Mazi Obong who was recently decorated by the Catholic Bishop of Umuahia Diocese with the greatest award to a laity, said although he no longer have anything to do with Cross River State, the road project would have dangerous impact on the rich rainforest.
"Although I have not visited Cross River State since we left it as a result of the war, and may not know how the place is now, I am sure the project if executed would deplete the fortune of the rich rain forests. The forests used to flourish with assorted types of land and sea animals for food, such as periwinkle, crustacean, snail and other shell foods. Then, very early in the morning, our women would go to the forest to pick shell organisms and they returned with large quantities of them, which were sold to earn good living. Virgin forests supported the thriving of wild organisms, and after rain, you see large numbers of the organisms especially snails crawling about on the ground, trees and leaves.
"In terms of agriculture, many of us had large plantations of cocoa, plantain and other highly economical crops, in addition to yam farms. But with this development, I believe the forests would change from what they used to be, and would not be conducive for the thriving of the economical plants and animals," he explained.
Governor Ben Ayade of Cross River State had insisted that there was no going back on plan to construct the super highway, saying measures have been put in place to cushion the environmental impact of the project, through an aggressive tree planting initiatives and preventing slum communities from emerging along the super highway corridor.
"The Cross River super highway is taking down less than 18,000 trees. Interestingly, the state has an aggressive plan to plant 500 million trees in this place and over a million have been planted already.
"I am taking the Atlantic coast closer to northern Nigeria, so that they can also have a direct access to the water front," he told journalists during the UN Climate Change Conference in Marrakech, Morocco.
But the fear of Mazi Obong and others who feel concerned is that, the new trees being planted to cushion the effect of cutting part of the rain forest would not provide the kind of ambience as the natural vegetation, needed for the thriving of wild plants and animals.
The state government's plan to construct the super highway on 35 metres corridor across 261 kilometers, has been graced by protests in which over 253,000 signatories were reportedly collected from 185 affected forest dependent communities and environment advocates.
Nigeria suffers serious depletion of its wildlife reserve, with most of the remaining exotic organisms, especially the critically endangered gorilla, found in Cross River State that holds nearly 70 percent of the country's rainforest.
"The Cross River gorilla is classified endangered and the most threatened ape in Africa. Hunted almost to extinction, fewer than 300 Cross River gorillas survive in small mountainous area at the headwaters of the River straddling the border between Nigeria and Cameroon," says a document.
Analyst feel the super highway may put further stress on the already critically endangered wild organisms in the Cross River State rainforest.
By Innocent Onoh