A brand audit has pointed accusing fingers at organisations such as Bigi, Pepsi, Nova, C-Way Table Water and Coca-Cola as the five top plastic polluters in Lagos.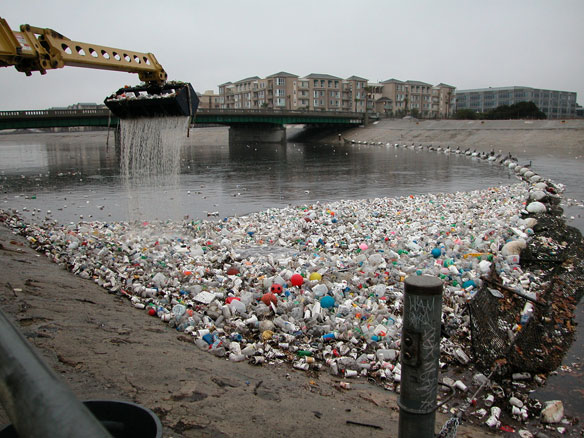 The study was conducted in observance of the Global Clean-up Day on Thursday, September 21, 2019 at the instance of the Sustainable Research and Action for Environmental Development (SRADev Nigeria) in collaboration with the Beach Samaritans and Kids Beach Garden.
Conducted at the Kid Beach Garden in Lekki, the audit held under the auspices of the Break Free From Plastics (BFFP), a global movement comprising some 1,500 organisations across the world. The movement envisions a world free of plastic pollution.
Out of a total of 2,166 plastic materials gathered, 1,247 (58%) were from 171 known brands, from which five had almost a third share of the total pollution from the known brands. These include Bigi, Pepsi, Nova Plastics, C-way Table Water and Coca-cola.
The materials gathered were mostly for food packaging, of which a high proportion (94%) were polyethylene terephthalate (PET) or plastic bottles. The report also listed other top polluters to include Action Bitters, 7-up, Eva water, Pepsi, Viju water, Maltina, Mirinda, Fan milk juice, La Casera, Fanta, Aquafina, Nestle water, Dana plastics, Orijin Bitters, Sabrina Bitters and Adonko Bitters. Almost all materials found are recyclable.
SRADeV Nigeria officials, who disclosed that the study was informed by the need to raise awareness about the health effects of plastic pollution and also hold top polluters accountable and culpable for plastic pollution on the coastline, said they would henceforth conduct the exercise on a yearly basis to challenge the corporate powerhouses by using BFFP brand audits as a data collection tool to show who is to blame for the single-use plastic pollution menace in the country.
"Plastic is not just a litter problem; it is a pernicious pollution problem that starts as soon as the plastic is made. Nigeria's use of plastic in virtually every of life activities today is deeply interwoven with many of the problems facing our country today, we cannot simply continue like this," said Dr Leslie Adogame, Executive Director, SRADeV Nigeria.
"As the ocean continues to serve resourceful purposes such as life sustenance, it must not be left as dumping ground for all sorts of waste," added Victor Fabunmi, Senior Programme Officer, SRADeV Nigeria.
SRADeV Nigeria and its associates believe that, by banning single use plastics, Nigeria will contribute to the achievement of the following Sustainable Development Goal (SDGs) targets:
By 2020, sustainably manage and protect marine and coastal ecosystem to avoid significant adverse impact, including by strengthening their resilience, and acting for their restoration in order to achieve healthy and productive oceans.
By 2020, achieve the environmentally sound management of chemicals and all wastes throughout their life cycle, in accordance with agreed international frameworks, and significantly reduce their release to air, water and soil to minimize their adverse impacts on human health and the environment
By 2030, substantially reduce the number of deaths and illnesses from hazardous chemicals and air, water, and soil pollution and contamination.
By 2025, prevent and significantly marine pollution of all kinds, from land-based activities, including marine debris and nutrient pollution.
To significantly curb the menace of plastics, a regulatory-concerted approach is urgently needed, adds SRADev, even as it recommends the following:
Urgent call on government of Lagos State to ban on single-use plastics to "break free from plastic" by establishing a Plastics Task Force (PTF).
Federal Government to institutionalise 4Rs – Reduce, Reuse, Recycle and Reject. Immediate regulation against plastic use in Nigeria is needed.
The government should invoke nationwide tax on plastics or the polluters principle on corporate bodies and plastic enterprises.
All stakeholders particularly industry should engage in researches that provide alternatives to replace the single-use plastics.
NESREA should enforce Extended Producers Responsibilities (EPR) programmes against corporate organisations such as establishing buy-back centres in the country.
"In today's world the principles of environmental justice, social justice, public health, and human rights should lead government policy, not the demands of elites and corporations. This is a future we believe in and are creating together," said Dr Adogame.