Thousands of children gathered in the German city of Aachen on Friday, June 21, 2019 to call for political action to mitigate climate change as part of the city's first international "Fridays for Future" demonstration.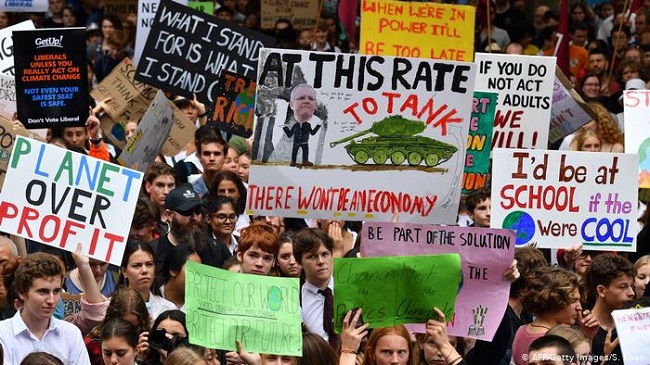 As many as 20,000 participants from 16 countries are expected at the protest that is set to take place outside Aachen's Tivoli football stadium.
The stadium is located not far from the country's foremost lignite-mining area, Europe's largest source of carbon dioxide emissions.
Thousands of climate activists are preparing to block access to the mine over the weekend.
Many students brought homemade signs to the rally on Friday.
Romy, a 17-year-old from Cologne, held one homemade sign with the message "The climate is more hopeless than our math graduation exam.'' Others proclaimed "The dinosaurs also thought they had time'' and "Grandma, what's a snowman?''
A banner hanging over a fire engine read "Our house is on fire."
One of the oldest participants was Erasmus, an 88-year-old man from Cologne. "We support the students, we want to show that we old people have the same ideas and the same goals,'' he said.
A large police contingent has been deployed for the demonstration, although a spokesman said that no incidents had been reported so far.
A special train from the Swiss city of Basel filled almost exclusively by school children was met by numerous police officers as it arrived at the station.
The "Fridays for Future'' protest network is driven largely by school children and led by Sweden's Greta Thunberg.
Her weekly protest outside parliament in Stockholm culminated in a May 24 global school strike that was staged in 131 countries.