Stakeholders of a Just Transition programme have asked the Nigerian government to properly integrate Just Transition into polices and processes to enable the country meet up with set deadlines.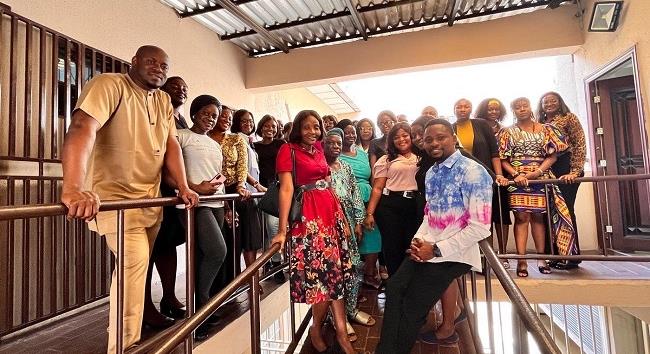 Making this call at a two-day workshop organised by the International Climate Change Development Initiative (ICCDI) in partnership with Friedrich Ebert Stiftung (FES) Nigeria, stakeholders from the civil society space, the government and private sector re-echoed the need to divest from oil exploration to more renewable form of energy to support a sustainable economy.
Held from April 19 to 20, 2022, the workshop was themed: "Accelerating Nigeria's Climate and Just Transition: A range of Challenges and Opportunities".
Speaking with EnviroNews after the event, Chidie Ugwu, the Programme Manager at FES, highlighted that diversion from oil extravism was at the centre of Just Transition.
He underlined the need to channel funds used for oil exploration into other renewable forms of energy.
"When you're talking about divestment, you're talking about moving out of a particular way of doing things into a new way of doing things," he said.
"Until we take our monies that we put into oil extraction into other forms of energy production and generation, I don't think we are going anywhere," the programme coordinator said.
Adding that Nigeria is not ready to move away from oil production and exploration which is the mainstay of the country's economy, Mr Ugwu lamented that "instead of divesting from oil, Nigerian government is busy spending money looking for oil."
On his part, Olumide Idowu of ICCDI called for synergy between the government, CSOs and private sector to enable Nigeria go into Just Transition with its peculiarities as a nation without bringing in foreign techniques which might not be workable in Nigeria.
He further harped on the need to heavily invest in policies and processes promoting Just Transition.
Gbemisola Akosa, Executive Director of the Centre for the 21st Century Issues and a climate activist, suggested that government considers the grassroots in order to properly achieve a Just Transition economy.
She explained that all sectors must be accessed in order to identify the entry points for a Just Transition.
Sulaimon Arigbabu, Executive Secretary at Human and Environment Development Agenda (HEDA Resource Centre), educated participants on how climate change and Just Transition can affect food systems and how food systems are responsible for about one-third of global emissions – almost 60% of which can be attributed to food production.
Stating the need for Just transition in food systems, he added that the aim is to ensure that farmers do not get left behind as the world moves away from carbon-intensive practices.
Agriculture is often identified as one of the sectors most vulnerable to climate change. Droughts, floods, wildfires and heatwaves have all destroyed crops, reduced harvests and impoverished farmers around the world in recent years.
Minister of State for Environment, Sharon Ikeazor, in March 2022 stated that 840,000 jobs would be created when Nigeria transitions to green and sustainable energy.
Nigeria has committed to implementing an Energy Transition Plan (ETP) which is part of the country's efforts at meeting the Net Zero Emissions commitment by 2060 made at the Conference of Parties (COP26) in Glasgow, Scotland, United Kingdom, held October 31 to November 13, 2021.
By Ayomide Emeka Joseph