Connected Development (CODE) and its social accountability movement affiliate Follow The Money (FTM) have impacted over four million lives in have empowered 300 communities across Africa.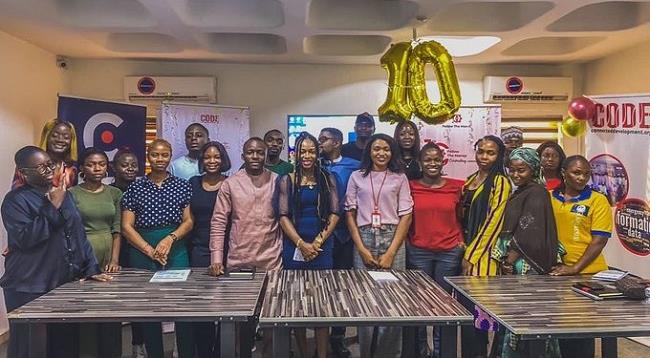 The Director of programmes CODE, Ms Lucy Abagi, made this known at the unveiling of the new logos and presentation of the journey and achievement of the organisation to mark a decade of its existence in Abuja.
Abagi said the group achieved this through various projects, campaigns and community outreaches in Education, Basic Health and Water Sanitation.
According to her, CODE is an NGO with a mission to empower local communities in Africa through its FTM project, Africa's largest citizen-led social accountability network that advocates, visualises and tracks government spending in rural communities.
She said that CODE through the FTM Initiative had also successfully impacted millions of lives across Africa directly, enabling citizens to demand better from their government and directly influencing government policy to ensure public funds work for public good.
She said that the organisation works to strengthen local communities by creating platforms for dialogue, enabling informed debate, and building capacities of marginalised communities.
"Thereby bringing about more transparency and accountability in government spending.
"We are celebrating CODE at 10; it was established in 2012 and this youth-led organisation is now in 10 African countries working to empower marginalised communities, impacting over four million lives and building the highest standards of accountability and transparency at all levels of governance across Africa.
"FTM is working to empower young people, women and girls to hold their government accountable by ensuring that people everywhere have the right information, data and evidence needed to ensure change, transparency and accountability in their own local communities.
"This was made possible through CODE's chains of products tracking budgets like the COVID-19 Transparency and Accountability Project (CTAP), Project Sabi, WASH, Open Parley among others with the support of our donors.''
Abagi said that although the organisation was able to make progress, however, access to information had remained a major challenge in the course of its work.
"Access to information is a problem for us at CODE because our work is driven by data and evidence, and we do verification and validation before we come out with any information to ensure that we give the public the right data.
"Access to information is a problem because governments in some states at some levels have refused to ensure that the information that citizens need to hold them accountable are in public space.
"So, if we want this work to keep moving forward, the government needs to open up more by ensuring their budget, implementation plans, monetary allocations to budget are in the open space so that citizens and CSOs like CODE can use that information to hold them to account,'' she said.
Mr Busayo Morakinyo, CODE's Community Engagement Director, while speaking on CODE's Strategic Plans and the impact of FTM said that the organisation was working to see how communities and individuals would be engaged.
"FTM is a silver bullet that seeks to hold governments critically to account using project data, using budget data to drive the conversation in the last 10 years.
"Starting from 2012, we have been able to move to well over 300 projects and we are going to be unveiling that subsequently.
"For us, 10 years is a milestone that we want to celebrate, and we are deliberate about that; we want to celebrate communities that have partnered with us and donors but much more than that, we are celebrating the resilience of citizens who have decided to learn using the FTM methodology to hold their government to account.
"That is what we are celebrating and much more than that, we are looking into the next 10 years because we want to see how communities and individuals to work with FTM because until citizens are able to do that, we are still scratching the surface.
"So, we are going to ensure we work to ensure that our products are everywhere in African countries and attaining great success.''
Morakinyo said that the group had lined up of events to celebrate its 10 years, adding that youths would also be carried along encouraged to participate in politics and make their voices count in the electoral process.
The Chief Operating Officer of CODE, Ms Ijeoma Oforka, said that the group had a new 10-year strategic plan and activities that would to youth empowerment and engagement in elections, budget tracking and accountability.
Oforka said that CODE spurred about 10 products spreading across 10 African countries including Nigeria to ensure meaningful impact is made in advocacy and campaign.
"We have been able to track about N2billion projects; we won awards and made impact across communities in advocacy.
"It has not really been easy; we have gone through a lot of challenges, and we are able to overcome and we have been able to actually access funds to ensure that more lives are being touched and we are not going to stop there.
"CODE has done well, and we are proud of what we have achieved,'' she said.
Communications Manager, Stephen Akinfela, while speaking on the new logos, said that CODE's new logo, which is red, is the organisation's theme colour which was explained in a puzzle of what CODE stood for.
According to Akinfela, these are Transparency, Freedom of Information, Open Government and Accountability.
"Going forward, CODE will engage in campaigns, grassroots mobilisation, advocacy and innovation for improved service delivery.
"The 10th anniversary logo is an offshoot of the main logo, and we are sticking to it with the hopes that we will reach out to more communities, influence more lives, encourage citizens to track government spending from the grassroots, and ensure openness and transparency.''
By Angela Atabo