For the past week, negotiators from 195 states plus the EU met in Nairobi, Kenya to agree on text for a Global Biodiversity Framework (GBF) – a 10-year make-or-break roadmap designed to halt and reverse the loss of nature – which is supposed to be adopted later this year in Canada at the UN Biodiversity talks (CBD COP15).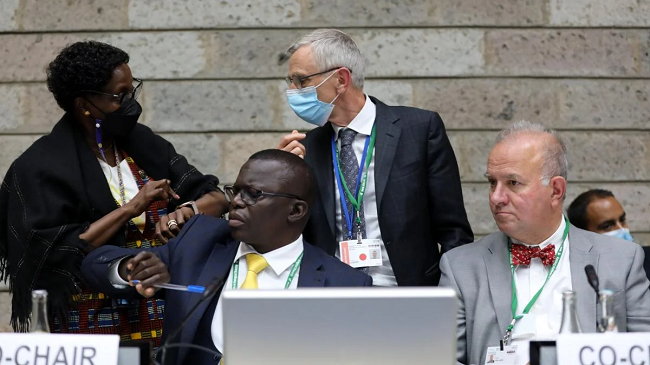 This ad-hoc emergency meeting was scheduled after the previous rounds of talks in March 2022 failed to reach consensus on a host of key areas.
But the talks are said to have ended without progress as negotiators have reportedly failed to progress the text which was mired in late night bureaucratic discussions.
Commenting on the negotiations, Director of Biodiversity Policy and Infrastructure for The Nature Conservancy (TNC), Linda Krueger, said: "Global interest from the UN Secretary General, Ministers, and Heads of State is needed in the run up to December, to secure anything like what is needed to slow the extinction and nature loss crisis. Despite scheduling this emergency meeting to address key sticking points within the draft Global Biodiversity Framework language, and also agreeing a date and host country for the final round of negotiations, we are appalled by the lack of progress this week. We need to raise this on the political agenda. The negotiations have lacked fire and momentum.
"This process is intended to drive a global, UN-wide roadmap for humanity's relationship with nature. Currently, this a failure at all levels. We need to move out of inertia and raise ambition to ensure that in November and December, we see a two-step increase in bold action for the planet and for posterity – first on climate in Egypt, then on nature in Montreal to deliver the decade of ambition to stick to temperature limits of 1.5 degrees, and to halt and reverse biodiversity loss by 2030.
"While we appreciate the long hours and hard work of delegates, we cannot sleepwalk into the largest extinction crisis seen in centuries; one we cannot easily reverse without bold and significant system change. We will continue to pressure global leaders to drive and adopt ambitious goals for nature later this year at the CBD COP15.
"The UN Ocean meeting is about to begin in Lisbon, Portugal, another opportunity to turn the tide on our irresponsible treatment of the planet. Governments have signed up to the Leaders' Pledge, committed in both the G7 and G20, to halt and reverse biodiversity loss and often talk a big game on nature. Let's not forget that words only count when they stop trees being cut down, soils depleted, ensure that people and their rights respected, and we can guarantee clean air, water, land, species ocean conservation. We've been kicking the biodiversity ball for too long and this process is going off the rails. Urgent course correction is needed, and it's needed before the final meeting in Montreal in December. Nature deserves more than this."
According to Campaign for Nature, the lack of progress in the meeting has now threatened the outcome of the entire process.
The group submitted: "With over 20 action targets in the draft agreement, known as the Post-2020 Global Biodiversity Framework, the goal for the Nairobi meetings was to resolve issues for up to 80% of the negotiating text that had been put in brackets, which signals a disagreement amongst parties. Not only did countries fail to progress, but in some cases, new disagreements threatened to move the process in the opposite direction.
"The most fundamental issues, including how much funding would be committed to conserve biodiversity, and what percentage figures the world should strive to protect, conserve, and restore to address the extinction crisis, were not even addressed this week.
"With time running out, civil society leaders and others are calling for urgent and increased political engagement and leadership at the highest level to deliver the ambitious, science-based agreement that is needed to safeguard nature around the world."
Brian O'Donnell, Director of the Campaign for Nature, said: "With the negotiations now faltering and with some key issues at a stalemate, it is up to heads of state and other political and United Nations leaders to act with the leadership and urgency required to bring countries together around an ambitious global biodiversity strategy. The elements of an ambitious agreement are there.
"Nearly 100 countries have come together to support the proposal to protect at least 30 percent of the planet's land and ocean by 2030, one of the cornerstones of the draft agreement, and the crucial issue of protecting indigenous rights has widespread support. But time is now running out and countries need to step up, show the leadership that this moment requires, and act urgently to find compromise and solutions."
Apparently alarmed by the slow pace of negotiations, Indigenous leaders are calling on UN experts to scale up and protect their rights.
At a press briefing on Thursday, June 23, 2022, in the Kenyan capital, Indigenous Peoples and Local Communities' leaders released demands that include safeguards to prevent government efforts to evict Indigenous peoples and local communities from their lands in the name of conservation.
"We now have irrefutable evidence," said Lucy Mulenkei, co-chair of the International Indigenous Forum on Biodiversity (IIFB). "The only way the UN's future biodiversity international framework can be a strong and effective approach for conserving biodiversity is by recognising land rights and incorporating and ensuring a strong human rights approach that respects the role of Indigenous peoples and local communities.
Lucy Mulenkei is among a delegation of Indigenous leaders who were in Nairobi with other Parties to the Convention on Biological Diversity for the final meeting of experts drafting the post-2020 global biodiversity framework. The event is seen as the last opportunity to advocate for protecting the rights of Indigenous peoples and local communities as a central tenet of the framework on biodiversity that will be debated at the COP15, recently moved from Kunming, China, to Montreal, Canada.
"This framework will have to include the relationship between culture and nature that indigenous peoples and local communities have," said Edith Bastidas from the Indigenous Women's Network on Biodiversity in Latin America and the Caribbean.
"We are pushing for the biodiversity international framework to incorporate a human rights approach to conservation – including respect and recognition to the land, territories, traditional knowledge, and the free, prior and informed consent of Indigenous Peoples and Local Communities," said Jennifer Corpuz, global policy lead for Nia Tero and lead for the IIFB on targets 1-8 of the biodiversity framework. "Whether you look through the eyes of our traditional knowledge holders, or through the lens provided by the research community, this is the only way the world can achieve the goals of the Global Biodiversity Framework."