His Holiness Pope Francis on Thursday June 18, 2015 released his much-anticipated encyclical, commanding the faithful to take action to protect our planet and solve climate change now. The Pope's message calls on all of us to stop abusing the Earth's resources and make the sacrifices necessary to combat climate change – before it's too late.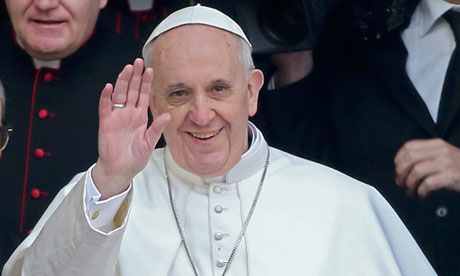 Throughout his encyclical, Pope Francis makes clear: We have to do more to safeguard our common home, like reducing our consumption, tackling pollution and greenhouse gases, and transitioning to clean energy. If we don't, we'll face grave consequences that put our ecosystem and human life at risk, especially for less-developed countries, he warns.
An encyclical is one of the most important documents a Pope can issue, reserved for only the most pressing global matters. With his encyclical on climate change, Pope Francis makes clear that addressing climate change is a matter of social justice – and that all of us must do our part to care for the world we inhabit.
The papal encyclical has however been swiftly greeted by a barrage of affirmative reactions from all over the globe.
For instance, the UN Secretary-General, Ban Ki-moon, has welcomed the papal encyclical, which highlights that climate change is one of the principal challenges facing humanity, and that it is a moral issue requiring respectful dialogue with all parts of society. The Secretary-General notes the encyclical's findings that there is "a very solid scientific consensus" showing significant warming of the climate system and that most global warming in recent decades is "mainly a result of human activity".
Ban Ki-moon reaffirms that humanity has a significant obligation to care for and protect our common home, the planet Earth, and to show solidarity with the poorest and most vulnerable members of society who are suffering most from climate impacts. He therefore urges governments to place the global common good above national interests and to adopt an ambitious, universal climate agreement in Paris this year.
The Secretary-General welcomes the contributions of all religious leaders and people of influence in responding to the climate challenge and in strengthening sustainable development. He looks forward to welcoming Pope Francis at the United Nations in September to address the UN General Assembly.
Similarly, Kofi Annan, Chair of the Africa Progress Panel and Kofi Annan Foundation, expresses support to the encyclical on climate change by Pope Francis.
His words: "As Pope Francis reaffirms, climate change is an all-encompassing threat: it is a threat to our security, our health, and our sources of fresh water and food. Such conditions could displace tens of millions of people, dwarfing current migration and fuelling further conflicts. I applaud the Pope for his strong moral and ethical leadership. We need more of such inspired leadership. Will we see it at the climate summit in Paris?"
Non-governmental organisations (NGOs) have also welcomed Pope Francis' strong moral case for people and leaders to tackle climate change delivered in Thursday's historic papal encyclical.
In a rare open letter that will shape Catholic teaching, His Holiness Pope Francis laid out our moral imperative to "care for our common home" and end the inequalities which are driving interlinked problems of climate change and poverty. Pope Francis is the latest and most high profile voice to join a long list of people, from scientists, business leaders, economists, labour leaders and youth, who understand that taking action on climate change and empowering poorer countries to develop sustainably is both morally and economically right. The fossil fuel industry is increasingly the sole and isolated voice opposing the groundswell of momentum for action.
Thursday's call is set to provide a massive boost to two big summits happening this year on sustainable development and climate change. Politicians have a chance to listen to their people and deliver plans to move towards a poverty-free world powered by 100% renewable energy at the UN General Assembly on the Sustainable Development Goals in September (the Pope will be speaking at the UNGA and to the US Congress) and COP21 in December.
NGOs and their allies in the faith community made the following comments:
Bernd Nilles, Secretary-General, CIDSE: "The coming months will be critical for decisions about development and care for the planet. We hope that politicians and decision makers will take the strong messages of the encyclical on board and that the outcomes of these international meetings will put the common interest first and be able to make the difference."
Winnie Byanyima, Executive Director, Oxfam International: "The call by His Holy Father, His Holiness Pope Francis, reminds us that climate change is first and foremost about people. The gross and growing inequality between rich and poor has been made worse by the climate crisis. Moreover, the emissions of the rich are driving weather extremes that hit the poorest hardest. Only when world leaders heed the Pope's moral leadership on these two defining issues, inequality and climate change, will our societies become safer, more prosperous and more equal."
Christine Allen, Director of Policy and Public Affairs at Christian Aid: "From William Wilberforce and the abolition of slavery in Britain to Martin Luther King Jr.'s fight for equal rights in the US and Desmond Tutu's victory over apartheid in South Africa, Christians acting on their sense of moral duty have a history of transforming society for the better. If Christians in Europe and all over the world heed its call as many are already doing, the Pope's Encyclical could well spark another transformation on a global scale – and Europe and the world would be a better place for it."
Tomas Insua, Movement Coordinator of the Global Catholic Climate Movement: "This beautiful and urgent call to action from Pope Francis, besides challenging our lifestyles and behaviors, has perfect timing ahead of the COP21 summit. It was Pope Francis himself who said he wanted the encyclical to influence the international climate negotiations, so now it's time for Catholics and all people of good will to mobilise and remind world leaders of the moral imperative of climate action."
Dr Guillermo Kerber, Programme Executive on Care for Creation and Climate Justice, World Council of Churches: "The World Council of Churches welcomes Pope Francis' encyclical which catalyses what churches and ecumenical organisations have been doing for decades – caring for the earth and fighting for climate justice. By affirming human induced climate change and its impacts on the poorest and most vulnerable communities, the Encyclical is an important call to urgently act as individuals, citizens and also at the international level to effectively respond to the climate crisis."
Reverend Fletch Harper, Co-ordinator at Our Voices and Director at Greenfaith USA: "As co-organisers of the June 28 March in Rome to St Peter's Square – Una Terra, Una Famiglia Umana – the Our Voices movement looks forward to showing that an incredibly diverse, rainbow coalition of Catholics, followers of all faiths, environmentalists and people of good will support the Pope's call for action by world leaders. The Encyclical shows that the global multifaith tide of demand for climate action is growing dramatically."
Dr. Steven Timmermans, Executive Director, Christian Reformed Church in North America: "We affirm Pope Francis' moral framing of the threats posed by climate change. We have too many brothers and sisters around the world living on the edge of poverty whose livelihoods are threatened—and too many little ones in our congregations set to inherit a dangerously broken world—to believe otherwise. For too long the church has been silent about the moral travesty of climate change. Today, the Pope has said, 'Enough is enough,' and the Christian Reformed Church welcomes his voice."
Anthony Hobley, CEO of the Carbon Tracker Initiative: "Pope Francis's encyclical has added a moral imperative to the financial case for preventing catastrophic climate change. Carbon Tracker's financial analysis has shown that plans to invest trillions of dollars in high-cost fossil fuel projects does not make economic sense. Pope Francis makes it clear it doesn't make moral or ethical sense either. These fossil fuel assets that may never be burned anyway pose significant risks for investors and will impact the pension pots of millions of ordinary people."
Harjeet Singh, Climate Policy Manager for ActionAid International: "The Pope's moral call to protect the environment and humanity is backed by science. Pope Francis has hit the nail on the head by connecting the climate crisis with its root causes of huge consumption, massive inequality and destruction of ecosystems. As he says, real solutions need to be based on equity, justice and morality."
Louise Whiting, Senior Policy Analyst, Water Security and Climate Change, WaterAid UK: "Climate change will be felt mainly through water – too much in times of flood, too little in times of drought, and in many places increasingly saline or polluted. Though the world's poorest have done least to contribute to this global catastrophe, they are the most vulnerable to climate change and least able to cope. As the world's temperature rises, basic needs for water – including drinking, cooking, washing, sanitation and hygiene – must be given priority, to ensure the health and well-being of those most vulnerable, and to make communities more resilient to climatic changes. Developed world support to help least-developed countries adapt to the new realities will be essential."
Martin Kaiser, Head of International Climate Politics at Greenpeace: "We welcome the clarity and directness of the encyclical about the weakness of the international political reaction to climate change, with too many special interests prevailing over the common good. The Pope's words should jolt heads of government out of their complacency, and encourage them to bring in tough laws in their own countries to protect the climate, and to agree a strong climate protocol in Paris at the end of this year.
"The encyclical rightly points out that deforestation is a big contributor to carbon emissions and the loss of species. We endorse Pope Francis' call on world leaders to protect the forests and oceans, and listen to the demands of people and scientists worldwide.
"Finally, we hope that the Vatican Bank will join the growing movement which is divesting from coal, oil and dangerous nuclear power and support renewables, in keeping with the Pope's words. And we look forward to the Church's support for an energy revolution at local level as well."