Lagosians woke on Tuesday, June 2, 2015 to witness yet another fire outbreak in the Iyana-Ipaja area of the State. The blaze is said to have started June 2, 2015, after a fuel-laden tanker fell off a bridge and exploded along the Lagos-Abeokuta expressway.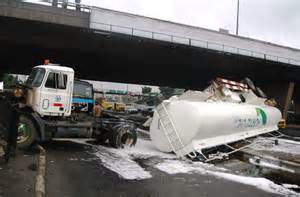 Within a few days interval, a tanker, carrying about 33,000 litres of Automotive Gas Oil (diesel) crashed into a building along Isheri Road while racing with another tanker and a commercial bus. The collision resulted in a spillage of the diesel into a gutter which was reportedly ignited by the flames of a suya seller located close by. The incident resulted in the destruction of 34 shops and 15 houses. And indeed, only just few days back the same incident happened in the Onitsha, Anambra State, killing not less than 69 persons and destroying properties worth millions of Naira.
In a statement on Tuesday, the International Institute of Risk and Safety Management (IIRSM) Nigeria Chairperson, Dr. Eugene Itua, decried the incidents and considered them avoidable. He noted if the refineries were to be working the movement of petroleum products via tankers would not have been the order of the day but the use of pipelines which constitute less hazard to the public. Dr. Itua urged the new government, as a matter of priority and urgency, to fix the refineries and save the nation from the myriads of problems and disasters associated with storage and transportation of petroleum products. He also pointed out that increasing public awareness and greater commitment from the part of government agencies responsible for fighting fire are necessary ingredients to putting an end to fire menace which seem to have engulfed the nation in recent times.
Dr Itua further recalled that in 2014, at least 137 people were killed during fire disasters while 20 people were killed between January and March, 2015 by fire. Also, in 2014, no fewer N101.52 billion estimated properties were saved from being destroyed by the fire services, while the estimated worth of properties saved between January and March, 2015 stood at N36.6 billion. The statistics revealed that 1,263 fire calls were received in 2014 and 524 fire calls also received between the first quarters of this year.
In support of the government's effort, Dr. Itua said IIRSM Nigeria Branch has embarked on the sensitisation of employees and business owners in Lagos Market on Institutionalisation Of Safety Culture and Prevention Of Fire In The Market Place starting with Ashade Market, Allen and Ladipo Market in April and May, this year, respectively. IIRSM intends to reach to all markets in Lagos with this sensitisation. It is believed with such awareness a greater number of the public will be given the right to know on how to prevent fire incidence and take safer responsibilities in ensuring life and properties are protected within and outside the confines of the market.