No country has developed without access to reliable electricity. With a weak electricity infrastructure marred by insufficient capacity, poor reliability and with 625 million people un-electrified, sub-Saharan Africa's electricity poverty has hugely inhibited its economic growth. Nigeria unfortunately leads the way with 93 million people lacking energy access and the country largely dependent on alternative energy sources primarily diesel/petrol generators, battery backup solutions, kerosene and biomass. With growing attention towards renewable energy and its potential to alleviate Nigeria's electricity crisis, more battery backup systems have been deployed for renewable energy storage. Solar rooftops are gradually becoming a common sight in the country especially in the major cities such as Lagos and Abuja.  The large battery market is becoming much bigger and lucrative especially for lead-acid batteries. Currently, almost all backup solutions use lead-acid batteries primarily due to their lower cost and availability compared to other battery options.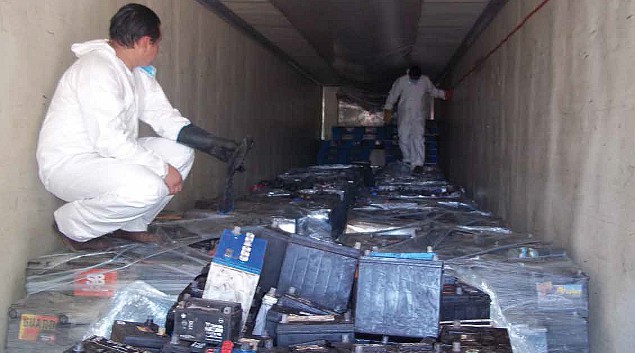 Lead-acid batteries are the most common and popular battery type used for energy storage in Nigeria. While alternatives such as Lithium-ion batteries exist and are increasing popular in developed countries due to their better energy density and growing use in electric vehicles, lead acid batteries dominate Africa's energy storage market primarily for their use in cars, Uninterrupted Power Solution (UPS) systems, and now increasingly for energy storage in the emerging renewable energy market.
Currently, it is estimated that nearly 99 million lead-acid batteries are generated annually in the country. With a growing renewable energy industry and positive developments in the sector including government's 30,000MW renewable energy 2030 target, the signing of PPA with 14 solar companies, mini-grid development through the now approved Mini-Grid Policy, and other developed renewable energy policies, the inflow of lead acid batteries is expected to increase to a whole new level. While these are positive developments for the industry, there is a very critical but currently overlooked aspect which has the capacity to undermine and potentially ruin the reputation of the renewable energy industry – The Management of Used Lead Acid Batteries (ULAB). For every 6 kilowatts of installed solar PV system, about 16 units of lead-acid batteries are required (200Amp, 12V). Over the next decade should the renewable energy industry grow as predicted, millions of lead-acid batteries are expected to flow into the country for the renewable energy storage.
Used lead-acid batteries are potentially dangerous due to the toxicity of the lead which comprises a significant percentage of the battery weight and the sulphuric acid solution electrolyte. The acid is corrosive and environmentally polluting while exposure to excessive levels of lead can lead to brain and liver damage, respiratory issues, impaired hearing, amongst many other health issues, particularly in young children. Currently Nigeria serves as a regional hub for the transportation of ULAB across West Africa due to its large ULAB market.
But what does this really mean considering the high environmental and health risks associated with ULAB recycling and disposal? The Heinrich Boell Foundation, as part of its mission to encourage sustainable development, carried out a research on the ULAB market in Nigeria and discovering a huge level of environmental pollution and health risks from the activities of illegal ULAB smelters and recyclers in the country. It was discovered that over 106,000 tons of ULAB are generated in the country with 96,000 tons collected and sold annually. A separate study estimates that about 50,000 tonnes of lead are recovered from ULAB in the country. Most prominent was the fact that no form of safety or health measure was adopted from the transportation to the recycling and disposal of the ULAB. More worrisome is that some of these smelters were located in residential areas or close to institutions such as schools and hospitals with lead poisoning risks. With the huge inflow of lead-acid batteries into the country – most times sub-standard batteries – there are concerns that the booming renewable energy industry will lead to a wave of toxic battery waste in Africa due the lack of standard recycling facilities.
But there might be a ray of hope as shown by one private sector player in the ULAB market who has invested significant resources into making sure ULAB is recycled following international standards and assessed as one of the best ULAB facilities in Africa. In the heart of Nnewi, Anambra State, Union Battery ULAB Recycling facility boasts of a ULAB recycling capacity of 100,000 batteries with modern recycling equipment, a waste gas treatment system and proper safety standards. The facility recycles almost 100% of the ULAB component except the slag waste. With such a huge battery market in the country, its facilities do not only have the capacity to drive economic growth but generate huge job opportunities. Unfortunately, this facility operates below 10% of its capacity. The reason is simply a case of "dirty money", with the informal recyclers who have not invested in any health, safety or environmental measures paying much more for the waste batteries from battery collectors than formal standards recyclers such as Union Batteries can afford in order to make profit. As such, a huge percentage of ULAB goes to the dirty informal recyclers, polluting our environment and causing health issues. With an increasing number of such informal recyclers, one should not be surprised should part of the smoke or air one inhales in the environment contain lead particles especially if residing close to any form of battery activity.
So what is the solution? One would think that, with such a huge market especially from the automobile industry, there should not only be specific policies and standards regulating the battery market, but also enforcement mechanisms. Unfortunately, such a policy is unavailable with the closest laws related to ULAB, according to the National Environmental Standards and Regulatory Enforcement Agency (NESREA) including the National Environmental (Sanitation and Waste Control) Regulations S.1 28 of 2009 and the National Environmental (Motor Vehicle & Miscellaneous Assembly Sector) Regulations. Following extensive stakeholder engagement, research and training workshop organised by the Heinrich Boell Foundation involving ULAB exporters, recyclers, renewable energy companies and organizations, research bodies, the Federal Ministry of Environment and NESREA, proposed key steps to ensure a well-regulated and sustainable ULAB market include:
Adopting the Basel Convention and Benchmarking Assessment Tool: The Basel Convention is an international treaty which Nigeria is a signatory to, designed to reduce the movement of hazardous waste between nations particularly from developed to developing nations. The Basel Convention has a set of standards and framework for regulating ULAB including the Technical Guidelines for the Environmentally Sound Management of Waste Lead-acid Batteries, and Standards and Best Practices for Environmentally Sound Management (ESM) of Used Lead Acid Batteries Recycling. The Federal Ministry of Environment should implement the Basel Convention and adopt these tools following the Convention's Training Manual for the Preparation of National Used Lead Acid Batteries: Environmentally Sound Management Plan in the Context of the Implementation of the Basel Convention.
While it is okay having general guidelines on hazardous waste, without an independent inspection, monitoring, evaluation and verification framework, there would most likely be no conformance with good practice or compliance with the adopted Basel Convention tools. The Federal Ministry of Environment should therefore also adopt and use the Benchmarking Assessment Tool, developed in accordance with the International Lead Association (ILA) Guidance Notes and the Basel Convention, to provide a consistent approach in assessing any phase of the ULAB life cycle particularly ULAB recyclers.
Develop a ULAB Policy and Extended Producer Responsibility (EPR) Framework: The Federal Ministry of Environment should develop a national policy for ULAB management and regulation covering all aspects of the business from transportation to recycling and disposal, as well as an EPR system for the battery market especially in the renewable energy industry, similar to the developed EPR system for the Nigerian EEE Sector. The policy should have legal backing to ensure enforcement.
Create a level playing ground in the sector: The government through the development of this policy and its implementation of standards across the ULAB market will create a level playing field for ULAB recyclers forcing the informal smelters to adopt best environmental and safety businesses, and encouraging the standard formal recyclers to continue good business practices. The key element of this is not just the development and adoption of the proposed tools, but its enforcement. The government environmental MDAs in collaboration with organizations such as the Heinrich Boell Foundation can organize training for these informal recyclers highlighting the health risks as some of them might be ignorant, and help them adopt good practices.
There are significant economic opportunities in the ULAB market especially when properly regulated by the government. With the volume of ULAB generated daily in the country, massive opportunities exist for similar standard recycling facilities to be set up, serving not only the Nigerian market but the regional African market. With the potential to create massive job opportunities and a thriving battery market for the renewable energy industry, government and the private sector should work together in developing this market properly and reaping its economic benefits. However most importantly, our lives and environment should be protected through safe and environmentally friendly ULAB recycling practice.
By Kelechi Ekwegh (Freelance Writer, Lagos; Kelechi.writingpen@gmail.com)