A survey conducted in the South-West region in Nigeria has shown that gully erosion is a pronounced environmental challenge that needs to be urgently tackled.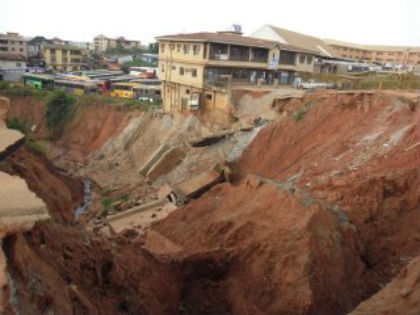 An environment expert, Prof. Isaac Olatunji, urged both the federal and the state governments to set up appropriate policies to combat desertification and gully erosion.
Olatunji, who is also the Dean, Faculty of Environmental Design and Management of the Federal University, Oye-Ekiti, Ekiti State, said that man had limited control over natural causes of desertification and gully erosion.
He, however, asserted that human response to the menace could be enhanced through qualitative environmental governance.
The environment expert explained that the rate of desertification in Ekiti was relatively low as compared to other parts of Nigeria.
Olatunji said that some parts of Ado-Ekiti, which were severely affected by gully erosion in the past, had been channelised by the state government and the rate of the erosion had been consequently reduced.
"What affects the environment will always affect the people living there, desertification also affects the cost of land, cost of building a house, especially for people in the low- and medium-income bracket.
"Gully erosion causes loss of lives, displacement of communities when homes are to be evacuated, disruption of access to economic livelihoods and educational services.
"The effect of gully erosion generally poses threat to land that is not directly affected as a result of which the space available for cultivation or building will become lesser and lesser," he said.
Proffering solution to the environmental challenges, Prof. Felix Salako, Vice Chancellor of the Federal University of Agriculture, Abeokuta, cautioned against excessive cutting of grass because of its negative impact on the soil.
Salako said that such acts left the soil bare and eventually led to desertification and soil degradation, stripping the land of its natural vegetative condition.
The Vice Chancellor, a professor of Soil Science, described desertification as a state of losing the land to extreme dryness.
He also stressed the need for conservation of the forest and soil to prevent erosion which according to him could lead to water pollution among other things.
Salako identified soil degradation as a major cause of the farmers/herders' clashes in parts of the country.
"When you are not having enough vegetation to feed the animals, they then go for crops.
"Soil degradation is something that must be prevented, and soil erosion is something that can cause degradation.
"In Nigeria, we tend to underrate the power and efficacy of nature, including plants, and so we don't accord them the necessary respect.
"We all need to be responsible for our environment and not leave everything for the government," he said.
Mr Olusegun Dasaolu, the Chairman of the Ogun branch of All Farmers Association of Nigeria (AFAN), said that farmers were the worst hit by desertification and soil erosion in Ogun.
According to Dasaolu, soil erosion is a gradual process that occurs when the impact of water or wind detaches and removes soil particles, causing the soil to deteriorate.
The farmer identified "massive felling of trees for charcoal'' as one of the major causes of desertification in the state.
"Another challenge we face particularly in the Yewa axis of the state is massive grazing.
"Over-grazing of our land has continued to lead to erosion, which also affects food production, because it exposes the topsoil, and once the top soil is exposed, it creates room for erosion," he said.
Mr Ola Oresanya, the Special Assistant to governor Dapo Abiodun on Environment, said that the state had commenced the process of improving the integrity of its waterways.
Oresanya said this was through dredging of rivers in Ijebu-Ode, Ota, Sagamu and Ilaro as part of effort to mitigate the natural causes of erosion.
"The dredging will increase the capacity of the water bodies to contain excessive waters during heavy rainfalls," he said.
In Osun, Mr Sola Oladepo, the Commissioner for Environment, said that the state was not experiencing desertification challenges, except little erosion problem.
Oladepo said that the erosion issues the state was facing was not the type that could lead to gully erosion.
"We have little erosion problem in the state, but we equally monitor areas where such erosion problem is noticed so as not to allow it to degenerate into a terrible gully erosion," he said.
Also contributing, Dr Kemi Idowu, an Associate Professor of Soil Fertility and Plant Nutrition, Obafemi Awolowo University, Ile-Ife, said tree planting would help to curb desertification and gully erosion.
Idowu, who is the Acting Head of Department, Soil Science and Land Resources Management, said that desertification was more pronounced in the Northern Nigeria due to shortage of water supply, high temperature and limited tree planting.
The don said there was need for government to encourage tree planting, adding that trees had the ability to develop deep root, which could hold soil and water together.
Speaking on the situation in Kwara, Prof. Lanre Ajibade, of the Department of Geography and Environmental Management, University of Ilorin, said that soil erosion was a prominent environmental problem in Kwara.
Ajibade noted that this posed a serious threat to the people because soil was an invaluable resource in the environment, as land determined agricultural potentials and provided habitat to people.
The don explained that erosion occurred in various forms including splash, rill, sheet and the most devastating, gully erosion.
"There is no part of the state that is free from at least one of these forms of erosion.
According to him, in the tropics where Kwara State falls, wind and water act as agents of erosion, quite unlike that of
temperate regions, which have ice and glaciers.
The Kwara Head of Operations of the National Emergency Management Agency, Mr Olusegun Afolayan, said the best way of preventing gully erosion remained planting trees and vegetables along paths of the erosion.
Afolayan said that under natural conditions, runoff was moderated by vegetation, which generally held the soil together, as well as protected it from excessive direct rainfall.
"There are several methods for controlling gully erosion, which can be chosen depending on the materials available.
"If it is a small gully, vegetation can be planted in strips across the gully to slow the velocity of water, trap silt, and prevent further erosion," he said.
Afolayan therefore urged both the state and the Federal Government to implement the Federal Environmental Protection Agency Act of 1988 to combat various environmental problems.
He sought the intervention of government at all levels to help cushion the effect of desertification and erosion in the agriculture value chain.
Alhaja Dauda Omotoyosi, the Secretary, FADAMA Community Association in Oyo State, said effect or impact of desertification, erosion, bad roads, among others was huge in the sector.
"Erosion is one of the major problems that is facing us here in Iseyin and indeed in most parts of Oke-Ogun, which is known as the food basket of Oyo State.
"We have challenges always with erosion which has made some of our lands which were hitherto fertile, become unproductive.
"Only farmers with very solid irrigation systems can survive the erosion and lack of adequate rain.
"Irrigation can help us with desertification as well and we call on government and stakeholders to come to our aid.
"It will be unfair if I say the Federal government has not been trying, but they can do better and our state government must also stop paying lips service to plight of farmers," Omotoyosi said.
Meanwhile, a Soil Scientist at the Institute of Agricultural Research and Training, Ibadan, Prof. Lateef Taiwo, asserted that climate change had contributed hugely to reduce soil fertility, thus impacting negatively on crop growth, development, and yield.
"Because there is deforestation, there is low soil organic matter, poor soil physical structure and low soil fertility, this inevitably leads to low food production and food insecurity.
"In some instances, crops grown in such an environment are susceptible to pests and diseases thus leading to poor yields," Taiwo said.
In attempts to restore normalcy to such problematic soil, he suggested that irrigation practice should be adopted.
"Another method of addressing the challenge of desertification is afforestation, a typical example is the Greenbelt project, which involves tree planting to reduce sand movement," Taiwo said.
Also, the Oyo State AFAN Secretary, Mr David Ogundele, said that to tackle the challenges of desertification, shifting cultivation and rotary system should be practised by farmers.
"We should discourage animals from grazing on farmlands and at the same time try our best to control erosion on our farm lands.
"Also, training farmers in good agronomic practices is very important so long as this issue is concerned.
"Farmers having the right information and knowledge on modern technology in commercial farming will certainly help us overcome such challenges and improve production," Ogundele said.
By Razak Owolabi