The South Durban Community Environmental Alliance (SDCEA) has expressed its deep concern regarding what it calls "the return to normal destruction" associated with the South African Petroleum Refineries (Pty.) Ltd. (Sapref), despite the refinery's propensity to cause environmental and health damage.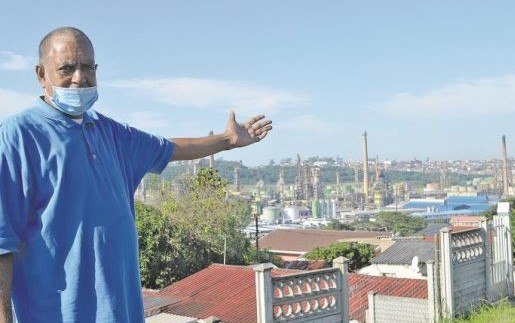 Sapref, a joint venture involving Shell Refining SA and BP Southern Africa, has resumed operations after a break. Sapref's Sustainable Development Manager, Mpume Mbambo, confirmed that Sapref refinery re-started on Monday, May 18, 2020 after completion of maintenance activities.
"As an essential service refinery, we are required to continue operations to supply the country with fuel during this difficult and unprecedented time," Mbambo said.
The SDECA coordinator, Desmond D'sa, however, disclosed that the company's decision to restart went against the evidence of local public health and ecological damage from refinery pollutants, as well as climate crisis caused by CO2 emissions, that the environmental alliance has presented against the refinery over the years.
According to D'sa, since the company's construction in 1963 next to the black residential areas of Merebank and Wentworth and near Umlazi, the refinery has imposed periodic catastrophes, including massive accidents, petrol leakages, explosions and fires, as well as ongoing day-to-day poisoning of air, land, water and bodies.
"We are Sapref's fenceline neighbours in South Durban. Since the outset of the Covid-19 pandemic, health experts throughout the world have warned that inhalation of pollutants can create further problems for those already at high risk. President Cyril Ramaphosa, Health Minister Dr Zweli Mkhize, Cooperative Governance Minister Nkosazana Dlamini-Zuma and others in the Covid-19 task team took a decision six weeks ago to shutdown toxic industries such as refineries and petro-chemical plants.
"We have long experienced far worse public health hazards here than nearly elsewhere else in South Africa, due to high levels of toxic pollution and unbearable odours from these refineries and associated petrochemical factories. Thousands of residents have been diagnosed with cancer, leukemia, asthma and a host of other respiratory and skin diseases.
"We find it unacceptable that Shell and BP are hell-bent on restarting operations, in part because we are in the worst period of fast-rising Covid-19 caseloads, and in part because they have done minimal maintenance in the intervening period. Nor did they assess and begin payments on their ecological debts to our people and our planet. We still have no confidence in Sapref's s self-regulation of its own pollution," said D'sa.
He maintains that a global climate crisis will be amplified by Sapref's restart, adding that the environmental alliance has noted a rise in gale-force winds, tornados, unprecedented rainstorms and droughts across KZN. "Shell and BP are primary villains, and have not yet paid their 'climate debt' from the super-profits they have earned.
"We insist that until Sapref and any other petrochemical industry in our area has paid its ecological debts, offered plans for ceasing toxic pollution including greenhouse gas emissions, and ensured worker and community safety, they stay closed. We value our lives and planet, and we will fight the refineries and other polluters with renewed confidence and anger," said D'sa.
Mbambo explained that the start-up of units would be staggered to minimise the impact of flaring.
"Flaring is a safety device and vital part of keeping the refinery safe during the start-up and shutdown of units. Sapref apologises for any inconvenience that this activity might cause as it gets the refinery back to normal operation," she said.