In a desperate move to promote better physical planning and engender environmental sustainability particularly in Lagos megacity and the rest of the state, the Lagos State Governor, Babajide Sanwo-Olu, in tandem with his Commissioner for Physical Planning and Urban Development, Dr. Idris Salako, are currently on a "rescue mission" to rid the megacity of unauthorised development and to ensure strict compliance with the state's building and physical planning laws by all developers (both individuals and corporate developers.).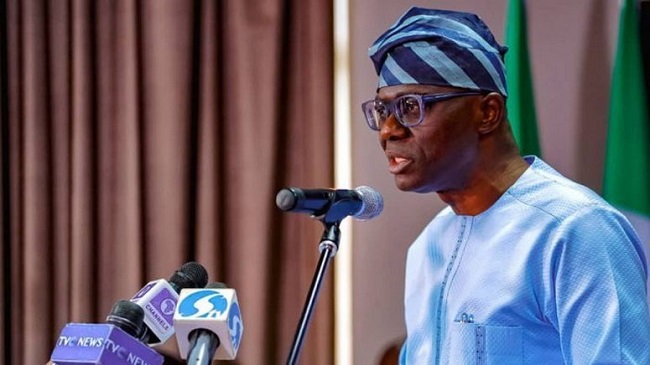 One should say kudos to the duo but granted that this is a good agenda, are they ready to effectively carry out this Herculean task? Courteous optimism one would say, because people may doubt what you say but will believe what you do.
Encroachment on road alignment (Right of Way), development without building permit, the ruination of greenbelt/wetlands and blockage of drainage channels are common occurrences which, the Lagos State Government (LASG) can no longer condone. Therefore, time is up to put a stop to such illegalities.
At the flag-off of the construction of the Lekki Regional Road on May 31, 2020, Governor Sanwo-Olu remarked with regret that some recalcitrant developers deliberately encroached on the regional road alignment (Right of Way) with reckless abandon. He frowned at such development and vowed that state officials found to have colluded with developers to contravene the Right of Way (RoW) would be meted appropriate sanctions.
Likewise, Dr. Salako is also not resting on his oars by being a co-traveler with his principal (Governor Sanwo-Olu) to enforce building and physical planning laws in Lagos. For a start, Dr. Salako has set up a Special Enforcement Operations (SEO) with the mandate to enforce development regulations in all ramifications. The SEO team goes on a daily monitoring mission to building construction sites to demand from property owners, the planning permits granted for their building construction and evidence of stage certification obtained from the state's building regulatory agency, Lagos State Building Control Agency (LASBCA). 
On a few occasions, Dr. Salako has left the comfort of his office at Alausa, Ikeja to lead the Enforcement Team on inspection to construction sites in some precincts of megacity to fish out developers who contravene the state's physical planning and building regulations. As at the last count, 56 buildings under construction without physical planning and allied permits had been identified and sealed off in the highbrow Banana Island, Ikoyi by the SEO team as of June 12, 2020.
To ascertain that there is a "new sheriff" in town, Dr. Salako made it abundantly clear that, it is going to be a continuous exercise statewide and more houses without statutory building permits would be sealed off once they are identified. He further emphasised that under his watch as the Commissioner for Physical Planning and Urban Development, it is zero-tolerance for infraction of the state's physical planning law. There is no cherry-picking or preferential treatment for any property developer. There must be total compliance with the provisions of the extant laws.
The concerns expressed by Governor Sanwo-Olu and Dr. Idris Salako who, incidentally is a town planner by profession, are not far-fetched. Flagrant violation of physical planning and building laws by developers is a recurring problem that has defied solution for too long in Lagos State. Why is this so? I will explain.
Factors responsible for incessant violations of building permits
The causes are multifaceted. Apart from feeble institutional machinery for development control, there are other apparent causal factors which this writer identifies as operational deficiency, perfunctory monitoring, shortage of personnel (field officers) for site inspection purposes, collusion between the developers and unscrupulous government officials who would look the other way than enforce standards because they have been compromised, undue bureaucracy in the processing of building plan approvals within a reasonable timeframe and weak system of reproach against erring developers who breach extant regulations and government officials who brazenly aid and abet illegalities.
Where the blame lies
Part of the blame is put at the doorsteps of the government in terms of deliberate understaffing and problems of transportation to facilitate easy mobility for field officers on monitoring duty within their areas of operations.
For example, the sprawling Districts of Ikoyi-Victoria Island and Lekki Phases I &II are under the jurisdiction of the Eti-Osa District Planning Office which is located in a far-flung place along the Lekki- Epe Expressway. The Eti-Osa office is manned by a few numbers of trained field officers who are usually overworked and frustrated because of poor logistics to effectively carry out their duties. They lament the lack of official vehicles to go round the vast planning districts where construction activities are tremendous.
Cumbersome procedure to obtain development permits
The procedure for obtaining development permits from the Lagos State Physical Planning Permit Authority (LASPPPA) and Lagos State Building Control Agency (LASBCA) is unnecessarily made byzantine and cumbersome. Albeit there is a 30-day state policy within which a developer can obtain a development permit, it is often observed in the breach than compliance. Instances abound where applications are held in the custody of the approving authorities untreated for over two, three, and or five years!
Put simply, the procedure for obtaining development permit in Lagos State has NEVER (my emphasis) been customer-friendly. The lengthy waiting period is a temptation for an impatient developer to go to the site and start construction without a permit mindful of the consequences of his action. He is ready to do "the needful" (a euphemism for underhand dealing) if challenged by monitoring officials for his wrongdoing.
What is the way forward?
Need for an internal self-appraisal
For effective development control and enforcement of building and physical planning laws, the LASG would need to do an internal self-appraisal on all the shortcomings enumerated above and muster the "political will" to correct the anomalies in order to change the status quo. First, the development control strategy must change from a reactive to a preventive method, whereby infractions are nip in the bud before they are committed.
More often than not, all over the megacity, the usual practice is that planning officials react too late to physical planning law violation after the developers must have gone too far in the process of development.
The Ikoyi-Victoria Island District Planning Office is essential and should be re-opened
We prevail on the LASG to re-open the erstwhile Ikoyi-Victoria District Office earlier closed down by the government. It was a costly error to have shut down the Ikoyi/IV District Office at the height of booming construction activities in that district. What informed the decision to site the field office at that location, ab initio was because of its centrality and proximity to Lekki, Banana Island, and Ikoyi/VI axis of the megapolis where development activities are steadily on the increase.
The recent discovery of developers building houses in Banana Island without building permits would have been detected at early stages if the Ikoyi/VI office was not shut down because Banana Island falls within the jurisdiction of the former Ikoyi/VI District Office.
LASG must employ more trained personnel for monitoring duties
While the LASG must "put more men on the job," the field officers must be empowered with workings tools to enhance their job performance. This is where the provision of operational vehicles to the schedule officers are paramount or else the ease of their mobility to construction sites for inspection becomes uneasy. Lack of operational vehicles top the list of complaints by a couple of field officers this writer had a one-on-one discussion with among other logistics-related problems encountered in the course of their duties.
If the LASG is passionate about effective development control within the megacity and its outlaying regions, it should augment the number of operational vehicles for the field officers. The LASG generously donated a fleet of operational vehicles to the Nigeria Police to patrol the megapolis for purposes of security; the government should likewise, extend the same gesture to building/physical planning officers on monitoring duty so that they can seamlessly perform their duties optimally.
It is better to have employees who are inspired and happy at performing their duties than to have a set of curmudgeons whose employers fail to motivate for optimum job performance.
Staff attitudinal change and zero-tolerance for venality
 The proliferation of buildings without permits in the state can only be eradicated if there is an attitudinal change among officials who have the remit to issue building permits while the incorrigible among them who continue to indulge in gratification before they perform their official duties should be flushed out of the system unceremoniously. These unscrupulous individuals are the "dark horses" whose unethical conduct constitutes a blemish on the reputation of LASBCA and the town planning profession in particular.
The LASPPA is advised not to make a simple matter complex. The procedure for obtaining a development permit must be streamlined and must not be time-consuming. For best practice, the agency could create a "ONE-STOP" widow for the processing of a development permit as obtained more insane clime. The city-state of Singapore is acclaimed for its one-stop widow in processing development permit, which saves time and energy for both the developer and the approving authority once the documents are submitted, vetted and confirmed in okay.
The average timeframe for issuance of a development permit in Singapore is between 7 to 14 days maximum and most of the processes can be done online.
By Yacoob Abiodun (Urban Planner/Planning Advocate, Parkview Estate, Ikoyi, Lagos; Email: yacoobabiodun@yahoo.com)