The National Coalition Against Plastic Pollution (NCAPP) in this piece frowns at the plastic waste pollution menace in Lagos and calls on the authorities to overhaul the nation's waste management practice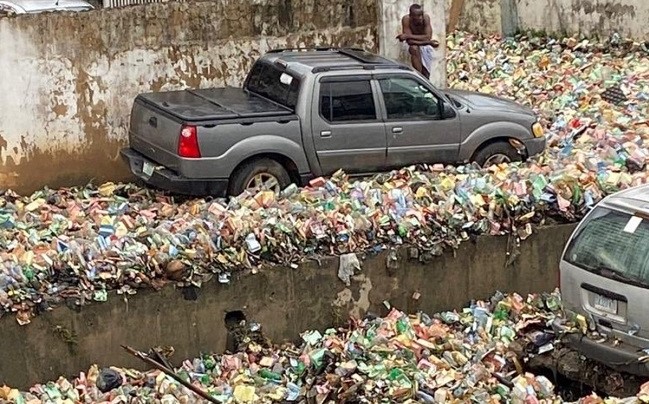 Recent massive rainfall in Lagos and the accompanying floods have greatly exposed the dirty underbelly of the Lagos metropolis, while making a mockery of the state's advancement towards a mega city status.
The National Coalition Against Plastic Pollution (NCAPP) is deeply concerned following media reports and photos of a garbage-filled neighborhood of Akobi Crescent, Surulere, Lagos. We are concerned because half the problem is man-made, caused by Lagosians following our illicit and unsustainable domestic waste disposal lifestyles.
From Lekki to Ikeja, to Surulere, Apapa, Lagos Island, Amuwo Odofin, Ajegunle to even Iyana-Oworo and everywhere across the city of Lagos the story is the same – overflowing canals, flooded streets, and highways with floating plastic waste.
As a coalition, NCAPP knows for certain that there is nothing we can do about the fact that Lagos State is below sea level. The implication is that the city of Lagos will continue to experience massive flooding. Why we are Lucky in Lagos State is because most of the flood are flash floods which disappeared after hours of rain fail. There is a lot we can do about our attitude and unsustainable waste management and disposal lifestyles in controlling the occurrences.
Plastic (Styrofoam polystyrene, nylons bags, polythene, PET, etc.) waste management is a critical area that producers and related companies must make a series of major strategic plan of action or engagement. Sustainable plastic waste management will create value from end to end around the sector thus improving livelihoods and reducing the pressure on the urban environment.
The National Coalition Against Plastic Pollution is now committing greater attention to citizens centered awareness, advocacy and campaigns in three different directions:
A call on the government of Lagos state to derive the process of formulating innovative and adaptive policy and roadmap aimed at curtailing the excesses and demanding producers of plastic waste accountable for the waste they produce.
A call on manufacturers of food and beverages especially those using plastics to begin to active the extended producer responsibility principle when it comes to plastic packaging and littering.
A call on the government of Lagos State to leverage on the PPP model for multi-approach system that provide an enabling environment for regional plastic waste collection centers within the state.
It is in the light of the above that National Coalition Against Plastic Pollution is now calling for a rethinking, reimagining and confronting the future of plastic waste pollution in Nigeria, particularly in Lagos State with a view to investigating and monitoring business practices, review success factors and advocate for sustainable plastic waste pollution across the sector.
Stakeholders are now calling for a broad and diverse range of stakeholders' perspectives addressing corporate financing for plastic pollution management especially in Lagos State.