The Ekuri community in Cross River State has said that a second highway road project initiated by the state government is posing a threat to its cherished community forest.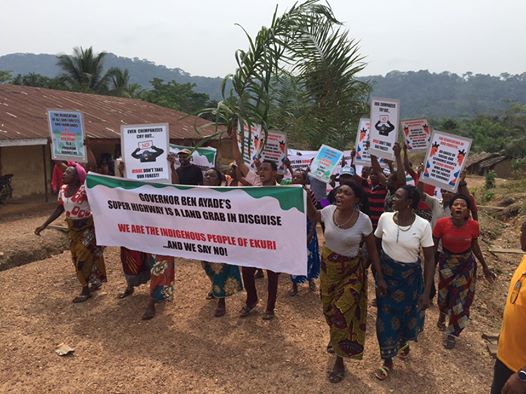 In a petition dated May 4, 2021 and addressed to President Muhammadu Buhari, the Ekuri indigenes in Akamkpa Local Government Area of the state, owners of the 33,600 hectares Ekuri Community Forest, said the new highway project approved by government through the Cross Rivers State Forestry Commission (CRSFC) is specifically aimed at logging their forest.
In the petition signed by 24 sons and daughters of EKuri, the indigenes said that a media report published on January 18, 2021 caught their attention wherein the CRSFC chairman, Tony Undiandeye "pledged support towards the completion of Iyamitet-New Ekuri Road" and revalidation of a forest lease agreement between Sibawood industry and Agriculture Nigeria Limited and New Ejuri Village who jointly with Old Ekuri owns the Ekuri community forest.
They recalled that, in 1989, Sibawood "secretly and illegally" entered into an agreement with certain persons from New Ekuri to log 20,000 hectares Ekuri community forest "without free and prior informed consent of both Ekuri villages".
They added that when the 1989 agreement became public in 2004, the community mounted an opposition against the lease which culminated into a legal battle.
They stressed that they responded to the publication by submitting a protest letter to the CRSFC, opposing the road project and the revalidation of the forest lease agreement, which they claimed had been overtaken by an interlocutory injunction, the 1994 cancellation of all forest concession agreements and the 2008 ban on logging by the state government.
Alarmed, they told Buhari that the state government has completed the revalidation of the 20,000 hectares lease of Ekuri forest to Sibawood to log "against extant injunction and other government policies which the Commission is supposed to enforce but rather has abused them".
Indeed, they claimed, Sibawood has deployed bulldozers and commenced the construction of the Iyamitet-New Ekiri Road and also begun marking hundreds of trees in Ekuri forest for logging, threatening livelihoods, ecosystem services, and mitigation of climate, "which this forest has been contributing to the wellbeing of Ekuri, Nigeria and the world at large".
While claiming that the development has violated several local and international treaties and obligations including the Nigerian Constitution, the petitioners called on Mr President to stop the revalidation of the lease agreement and "end the current logging onslaught to destroy the famous Ekuri community forest which has promoted Nigeria's image globally in terms of conservation, indigenous people's involvement, livelihoods and climate change mitigation".
In 2016, the Cross River government initiated the first superhghway project that was supposed to pass through the Ekuri community forest. After lots of local and international uproar, the road was eventually detoured from Ejuri forest.