Parents finding it challenging to pay their children's tuition fees may now heave a sigh of relief, thanks to an initiative designed to boost educational development and clean the environment.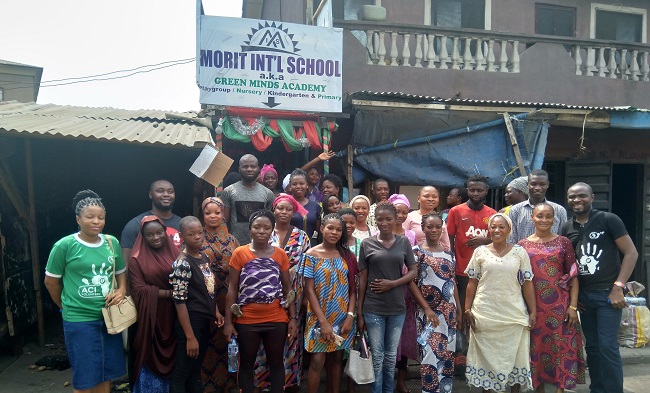 Tagged the "RecyclesPay Educational Programme", the project allows parents that have children in low-income schools to be able to pay the school fees of their offspring with recyclables such as plastic bottles and cans.
The project is the brainchild of the African Clean Up Initiative (ACI), a Lagos-based not-for-profit group, which is working in collaboration with Wecyclers Limited, the scheme's official recycling partner.
Morit International School in Ajegunle is said to be the first in Lagos State to embrace the project, which is aimed at assisting parents keep their children in school by gathering discarded plastic bottles and cans that ordinarily would clog up drainages or deface the environment due to indiscriminate waste disposal by residents.
Mr. Alex Akhigbe, Chief Environmental Officer, ACI, described the project as an answer to the cries of numerous parents who are having difficulty keeping their children in school due to the economic situation in the country. Most of these parents which he said are in slums and low-income areas can now take advantage of the PET bottles and cans waste littering the neighbourhood to pay their children's school fees.
His words: "Our goal is to support 10,000 children from not dropping out of school by the year 2025.
"Following the project's pre-launch ceremony held recently, this low-income school in Ajegunle will be the first school in Lagos State to accept recyclables as payment for students' school fees from parents in the school.
"RecyclesPay can be used for the full or part payment of a child's tuition fee. The latter payment stipulates a parent pays partly with cash and partly recyclables."
The parents of Morit International School, Ajegunle expressed excitement with the introduction of the project. According to the School Proprietor, Mr. Patrick Mbamarah, parents have been having difficulty in paying the N4,000 school fees of their children. This situation, he said, is affecting the timely payment of teachers' salaries. He expressed optimism that the project would help to address the situation in the school as well as help maintain a clean environment.
The ACI Communications Manager, Miss Blessing Martins, said the first set of accumulated recyclables would be collected in the month of January. She added that ACI would organise the Lagos Beat Plastic Carnival, as an avenue to sensitise the community members to shun indiscriminate disposal of recyclables and embrace recycling.
"The Lagos Beat Plastic Carnival is an event that will give instant rewards to community members for remitting accumulate recyclables on the day of the event. This event is in line with the vision of the organisation to raise environmentally responsible citizens in Africa," she said.