Minister of Environment, Surveyor Suleiman Hassan Zarma, has commended the National Biosafety Management Agency (NBMA) on its ability to properly implement its mandate.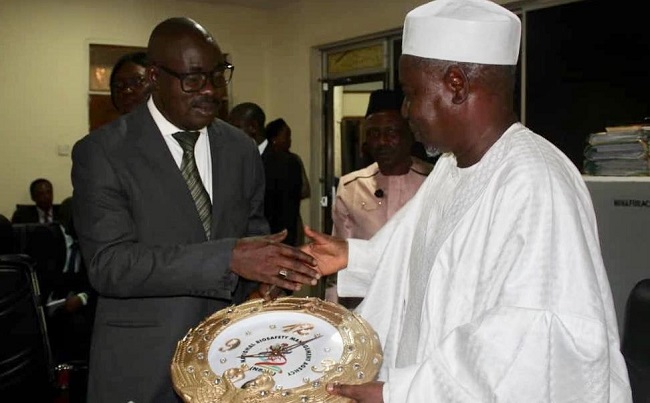 The minister gave the commendation when he visited the agency on a familiarisation tour in Abuja on Monday, January 21, 2019.
The minister however urged the agency not to relent in sensitising the public to distinguish between its role of regulating for safety and the promotion of the technology, saying that the public is most times confused on the role of the NBMA.
He also said that the agency needed to be supported and encouraged in view of its regulatory activities.
Zarma promised that the Ministry of Environment would continue to ensure that the NBMA executes its responsibilities as contained in the Act that sets up the agency.
In his presentation, the Director General/Chief Executive Officer of the Agency, Dr, Rufus Ebegba, briefed the minister on the milestones of the agency since inception, noting that one of the greatest challenges facing the agency is the opinion that the agency was established to stop Genetically Modified Organisms (GMOs). Hence what ever it does otherwise is heavily criticised, lamented the DG.
Dr Ebegba however stated that, contrary to the views that the NBMA was established to stop GMOs, the agency is rather established to ensure safety of products making sure that they do not cause harm to the environment and humans.
"One of the greatest challenges facing us is the fact that people think we were established to stop GMOs. Unregulated GMOs are bound to be abused. That is why NBMA was established to ensure safety," Ebegba stated.
He also highlighted funding as a major drawback for the agency as the budgetary allocation is grossly inadequate to take care of its needs, adding that the agency is blessed with capable professionals and dedicated staff.
The DG/CEO took the minister on a tour of the agency's GMO Detection and Analysis Laboratory and other offices of the organisation.