The Rockefeller Foundation on Wednesday in New York signed a Memorandum of Understanding with the African Union Commission to promote increased cooperation between the two institutions in their efforts towards Africa's progress.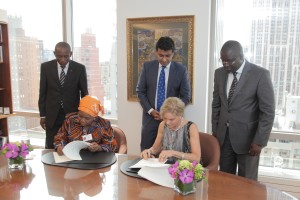 The signing took place under the auspices of the United Nations General Assembly, when H.E. Dr. Nkosazana Dlamini Zuma, African Union Commission (AUC) Chairperson, presented the African Union agenda 2063.
Popularly themed 'The Africa We Want', the AUC Agenda 2063 encapsulates the voice of Africa's people and their aspirations for the next 50 years. It emphasizes inclusive growth, integration, community participation and good governance among many other ideals.
"The African Union Commission is an important partner of the Rockefeller Foundation. We have both worked alongside individuals and organisations across Africa for decades to support progress in many sectors. This agreement amplifies our shared vision for a strong, vibrant Africa," said Dr. Judith Rodin, President of the Rockefeller Foundation.
Among the areas of greater collaboration for the two entities are Africa's health, livelihoods, youth employment, food security, urbanisation and resilience.
Last year the AUC celebrated 50 years since the inception of the Organisation of African Unity (OAU), the AUC's parent body, as the Rockefeller Foundation marked 100 years in philanthropy, with both organizations celebrating milestones in improving the lives of Africa's people.
The agreement also comes as AUC announced 2014 the year of Agriculture and Food Security, an opportune time to strengthen ties with the Foundation, which currently has two Africa-wide initiatives focusing on reduction of food waste and spoilage, and securing farmers' livelihoods.
Together, the Foundation and the AUC already have a number of initiatives in Africa that are aimed at improving the lives of poor and vulnerable people; one is the African Risk Capacity (ARC), a pan-African weather insurance scheme designed to help AUC member states withstand and recover from natural disasters. ARC currently has a 24 country membership, giving them access to a financial risk pool that uses advanced satellite weather surveillance and software which estimates and disburses immediate funds to these countries when hit by hazards like severe drought.
For over a century, the Rockefeller Foundation promoted the well-being of humanity throughout the world, a mission it pursues through advancing inclusive economies that expand opportunities for more broadly shared prosperity on one hand; and, on the other, building resilience by helping people, communities and institutions prepare for, withstand, and emerge stronger from acute shocks and chronic stresses.