Revamp Rave Network on Saturday, December 10, 2022, at Oyingbo area in Lagos State, executed the maiden edition of the Community Conference on Climate Change for Coastal Rural Women initiated by the group.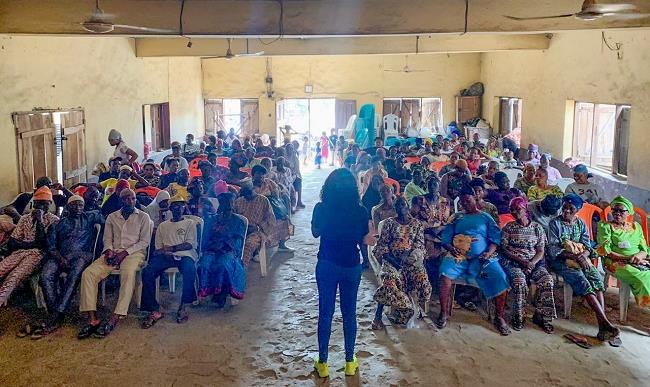 Not fewer than 200 women and people with disabilities from Kadara, Araromi, Market, Coates in Agoro communities participated in the event held at the Araromi Community Hall.
The conference, inspired by the Network's Kadara Waste Reduction Project and the Above the Rubble Documentary launched in 2021, initiated the open low-level dialogue to document environmental change realities of women and create awareness of how women can participate in climate action, ocean literacy and governance to spur more locally led solutions to aid adaptation methods.
The residents of Agoro, consisting of Market, Coates, Araromi and Kadara, have recently experienced floods, causing the internal displacement of women and women with disabilities who are yet to recover from damages caused by the flooding on their homes, properties and livelihoods.
Speaking at the event, Abimbola Abikoye, founder, Revamp Rave Network, explained that "the objective of the conference is to document details of environmental change realities caused by climate change, industrial and domestic solid waste pollution while spotting out local practices through dialogue to improve climate action and ocean conservation for communities such as Agoro.
According to her, it seeks to engage and co-produce environmental-smart solutions with marginalised women, increase their active participation in climate governance, and deliver on climate-smart skills through corporate partnerships to improve lives.
The women were allowed to speak on their challenges while also recommending solutions to the difficulties with the proper support from the government and the general public. Some of the challenges talked about by the women during the focus group session were the lack of waste disposal and a need for the government and relevant agencies to come to their aid. Also was the issue of poor hygiene, blocked drainage, lack of clean water, and lack of access to healthcare to improve their lives.
One of the women, Alhaji Afusat Ajibike, who spoke at the event, criticised the government for not providing a waste disposal system which has made the women resort to dumping waste into water bodies, drainage, canal and others to burning their waste, thereby threatening the environment.
Another woman, Ajoke Adebari, said: "There was a time we have where we drop our waste and LAWMA will come and pack it, but we are not seeing them again. If we leave our waste at one sport for more than two days, it will start smelling, which can cause other things in the environment, so our only alternative is to either drop them in the water or burn them. We will comply with whatever good alternative that comes up," she said.
Meanwhile, some of the women blamed the challenges on some actions of the residents.
One of them, Mojisola Oduwole, complained that training their children to clean the environment is challenging. Children naturally have become litterers due to poor environmental sanitation and where to dispose of waste when using them. She mentioned that "informing her children on the importance of cleanliness has proved positive in how they live their lives. However, others may not see it that way". She begged for more government intervention.
People and Language Tech relations officer, Revamp Rave Network, Mr Opeyemi Ademola, who spoke in Yoruba on "Women Involvement and their Role in Ocean Conservation", submitted that women play numerous roles in ensuring the ocean is safe, and one of them is first to avoid throwing waste into waterbodies as this waste could be harmful to them and the environment.
He said: "It is our collective responsibility, particularly for women who are managers of homes, to ensure that they protect their environment as their continued employment and food source may be endangered."
He explained the role of some aquatic life and how coastal communities "are intermediaries between land on land and below the sea".
Revamp Rave Network is a climate change-based environmental conservation organisation that seeks to change the African narrative and push its climate agenda through high-impact capacity-building programmes and projects by connecting people and building communities using climate education and environmental advocacy for climate action.
By Babatunde Michael, Revamp Rave Network