The much-vaunted initiative that entails mitigating climate change through reducing net emissions of greenhouse gases through enhanced forest management has once again come under criticism.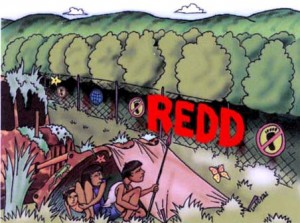 REDD+, which stands for countries' efforts to reduce emissions from deforestation and forest degradation, and foster conservation, sustainable management of forests, and enhancement of forest carbon stocks, was first negotiated in 2005 by the United Nations Framework Convention on Climate Change (UNFCCC) at its 11th session of the Conference of the Parties to the Convention (COP11).
But in an open letter by Swift Foundation and made available to EnviroNews on Wednesday, March 13, 2019, the organisation says that REDD does not incentivise protection of forests and biodiversity, as forests can qualify as an offset while being clear-cut and replanted as monocultures.
"This means that REDD does not reduce emissions, but rather enables polluters to continue to increase greenhouse gas emissions, with particularly acute impacts on communities where those polluters are located," writes Sonja Swift, on behalf of the Swift Foundation staff and board of directors.
The grant-giving organisation, in the letter written in response to the almost half a billion-dollar commitment signed by 17 philanthropies during the Climate Summit in San Francisco, California, on September 11, 2018, said that it opposes carbon trading programmes.
The correspondence further reads: "We explicitly and resolutely reject carbon trading schemes of any kind and consider these agendas to be false solutions. This includes REDD+ and/or by any name including: carbon pricing, cap and trade programmes, carbon tax when used to create further infrastructure for carbon trading schemes, forest offsets, and California's proposed Tropical Forest Standard. We agree with grant partners that it would be far more effective to focus on stopping subsidies that go toward agribusiness and extractive energy industries.
"REDD schemes have already caused divisiveness, land grabbing and violence. One of the core issues is that in the majority of researched cases in which REDD has been implemented, the results have been negative for the community due to noncompliance with FPIC. In other words, REDD schemes have denied Indigenous Peoples their territorial and legal rights, leading to food insecurity, illegal land grabs, the increase of monoculture farming, and invasive stakeholders.
"Swift Foundation board and staff simply do not support this kind of greenwash of extractivism and privatisation of Nature. Forests are alive, they are more than just 'carbon'. To avoid ecological collapse, we must definitively halt further extraction; cut emissions at the source; leave fossil fuels and rare earth minerals in the ground and in the oceans; shut down the Canadian Tar Sands; stop pipelines destined to transport Tar Sands and fracked oil; stop fossil fuel subsidies, including agribusiness subsidies for agrofuels, and cease carbon and biodiversity offset projects that continue to allow polluters to pollute.
"Providing extractive industries the option to buy offsets through carbon trading rather than cutting emissions at the source does nothing to address climate change, and only further imperils our children's future and the future of Life on Earth.
"Core to our role as a foundation is discernment, through listening and ideally also through accountability to our partners, such that we do not perpetuate ineffective or harmful initiatives through our funding. We believe we must work with urgency, while also slowing down enough to support those that protect their own cultural and intellectual diversity.
"For Swift Foundation, this means supporting grassroots leadership on the frontlines, while also showing more active leadership among our own institutions in disrupting false solutions to climate change. We recognise this as a pivotal moment in history when there is no more time for distractions or compromises, and we invite other foundations to join us in clarifying their own approaches to addressing the critical role of Indigenous Peoples in protecting and sustaining living forests."
The organisation submitted however that community forest management based on customary traditional knowledge "is the most effective way of protecting forests".
"An important first step is resolving outstanding land tenure issues. This work must be done in strict accordance with the United Nations Declaration on the Rights of Indigenous Peoples (UNDRIP), human rights jurisprudence and Free Prior and Informed Consent (FPIC).
"Many studies have shown that land managed by Indigenous Peoples with strong land tenure has significantly lower rates of deforestation than land under other governance systems, including protected areas.
"Supporting Indigenous Peoples' rights to their territory means investing in processes of governance and collective leadershipthat engage communities to manage their territories in ways that reflect their priorities and worldview.
"This work is not a "quick fix" for carbon (dioxide) sequestration, but rather involves years of long-term partnerships that build up relationships and create resilient and inclusive models of community management in which diverse actors play a role."