Project Heart2Earth Initiative has admonished the newly inaugurated Lagos State Government under the leadership of Mr. Babajide Sanwo-Olu to practically address the high level of air and environmental pollution that have continued to pose serious threat to nature and inhabitants of the state.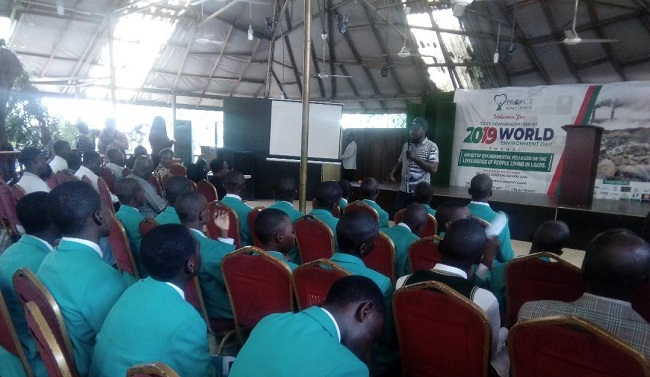 In commemoration of the World Environmental Day, the group, at a gathering held on Tuesday, June 11, 2019 to interface with stakeholders on examining the dynamic challenges that comes with population growth and exponential urbanisation in the country, said that unfortunately, Lagos is amongst the most polluted, toxic and unsafe cities to inhabit.
With the theme: "Impact of Environmental Pollution on the Livelihood of People Living in Lagos," the event attracted a sizeable portion of environmental rights advocates, with the Chairman of Asset Management Corporation (AMCO) and former Lagos Commissioner for Environment, Dr. Muiz Adeyemi Banire, as the Chairman of the occasion, represented by Mr. Ayo Adeyemi.
There was also a large representation of students drawn from secondary schools, who engaged in highly researched intellectual debate and quiz competition, in support of a better managed, protected and preserved environment for the sake of mankind.
In her presentation, Team Lead for Project Hearth2Earth, Mrs. Titi Akosa, said a lot of developmental projects embarked upon by the successive governments in Lagos over the years have arguable eroded the adequate preservation of the environment, making it susceptible to abuse and toxicity.
She said: "The failed waste management policy, unabated generating set fumes, uncontrolled transportation exhausts, gas flaring activities in Badagry and the recent explosion of the Olusosun Waste Dumpsite, among others, have made Lagos unsafe for healthy inhabitation.
"More worrisome however is the lack of involvement of environmental stakeholders in the formulation of key environmental policies by the government. But the change of administration has given us hope that there would be a change of priority towards the better management and preservation of the environment."
She however urged the Sanwo-Olu-led administration to ensure that it matches its pronouncement on the prioritisation of the environment with action, saying a healthy environment is to the benefit of all.
"However, our job is not only to identify dangerous places that constitute threat to inhabitation, but also assist in providing sustainability solutions that would guard and guide the government, hence, we are opening our arms to the government to offer voluntary support to aid its work," she added.
In his speech, the chairman of the occasion said the Lagos State Government Development Master Plan was painstakingly developed and reviewed with greater consideration for the environment and the healthy inhabitation of the population, saying the hundreds of millions of naira worth of investment in road construction, lightening the city and natural beautification projects were testament to this commitment.
He said: "While the government is obviously seen to be steadfast to implementing the said Master Plan, it is also important for other state governments to support the Federal Government and consolidate on Lagos' efforts by speeding up their economic intervention programmes so as to slow the pace of urbanisation, which no doubt overstretches Lagos amenities to almost a breaking point."
By Bankole Shakirudeen Adeshina