Ghana's private forestry sector has been operating for about 130 years now and is a major revenue generator for the country. But in the last few decades, the sector's comfort zone has been shaken by events and challenges including the rapidly dwindling resource base due to forest depletion and degradation, climate change, competing land uses, global trends in environmental protection and trade regulations.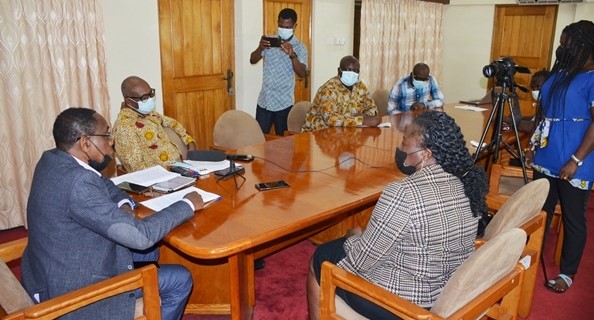 Now, compliance with national and international rules and regulations has added additional cost to operators. And to do business in this situation, requires a lot of courage, experience and an understanding of this new environment. Having recognised this, operators in the industry say they are also bracing up to address the challenges, so they can stay in business and grow their businesses for the entire nation to also benefit.
Therefore, the splinter private forestry sector groups have formed an umbrella body known as "Forest Industries Association of Ghana (FIAG)," which will be launched on Tuesday, June 29, 2021. These were made known by the Chief Executive Officer (CEO) of FIAG, Dr. Kwame Asamoah Adam, during a press briefing in Accra.
He said they recognise the urgent need to operate responsibly by conducting business in accordance with modern best practices that also contribute to the UN Sustainable Development Goals (SDGs). Dr. Adam added: "We don't want to do business and leave behind a lot of social issues, and we believe that this can be done better in an environment where there is healthy business relationships."
During the question-and-answer session, the press wanted further clarification on issues such as industry's position on the protracted delay in the issuance of the Forest Law Enforcement Governance and Trade (FLEGT) licences in Ghana and whether it is true that industry lacks interest in the entire scheme.
Dr. Adam responded that: "the issuing of FLEGT licence is for our benefit to enable us access markets in Europe, America and the rest of the world, where we get good prices for our products," stressing that, "we want to see it work. It is never true that the private sector never want the thing to work. It is not true."
For his part, FIAG's Director of Operations, Gustav Adu, reiterated that a lot has been done to put systems in place towards the final process in accordance with the Voluntary Partnership Agreement (VPA) on trade in legal timber, signed in 2009 between the Europe Union and Ghana in furtherance of the FLEGT process.
"… A lot of information has gone ahead, a lot of sensitisation has been done with our buyers and consumers. Therefore, if this should not happen, then it is going to be a huge setback for the industry," Gustav noted, adding, "so we have not given up and we hope that government will work on it to see that the process goes forward."
Excerpts of the session are captured as follows:
Question: Is it truly that the issuance of FLEGT licneces in Ghana has delayed unduly and will be stopped, because the private sector is refusing to comply?
Dr. Adam: We have come very far with the FLEGT process to say that it will not work, or we will abandon it. Industry is actually at the receiving end of the whole process. Systems have been developed based on Ghana government's own rules and regulations of controlling the resource, so they are to meet a lot of the responsibilities, so that the whole FLEGT can work. For instance, they have to ensure that the system of allocating the resource to operators, the legality assurance system and wood tracking system are all functioning. All that industry has to do, is to comply with the regulations.
Gustav: Your concern is whether the FLEGT licence will see the light of the day. Fact is that, following the establishment of FLEGT related systems, we here have seen tremendous benefits and change in the way forestry is practiced now in this country. For once there is a kind of engagement between government, civil society and private sector to look at roles and regulations to ensure that the forest resource benefit even the forest communities and the entire nation.
We've made a lot of progress in ensuring that benefits including that for employment and health, goes to workers in the industry. So, for us, we deem that this process goes through and in fact as private sector we haven't given up and desire to see the process through.
Question: In spite of the many challenges confronting the private forestry industry, you are able to generate as much as 200 million Euros annually and you're employing 400 thousand people, what sort of intervention do you expect from government to enable you operate optimally?
Dr. Adam: We will need government's support in resource expansion, protection and access to funding, and technical ability in terms of trade. We also expect the government to help us in the training of manpower. We don't have institutions training factory floor workers. Everybody wants to be a graduate, but we don't have middle level manpower to manage in the production system. So, if we're able to have these areas well addressed, we believe that the sector can expand and improve its contribution.
Gustav: The other thing is the need to re-organise internal trade in the country. You can see that for the past 10 years, there have been an influx of finished timber related products consumed in the country. And it has become fashionable for even government procurement in offices to go for cabinet and furniture items that hitherto used to be produced locally. It should be noted that there is no country that has made it through any form of industrialisation without having a conscious domestic consumption support in other to help build the technology and standards, before exporting. So, if industry is helped to restructure and reorganise internal trade and regional inter African trade is also re-organised among the nations, it will help nurture local industry and then resuscitate it.
Question: Why does FIAG not initiate its own needed training and wants government's intervention in that area?
Dr. Adam: We are doing it at company level where companies that require different scales either send their staff abroad to train or they bring resource persons in country to train them. But we are looking at where we have a policy on Forest Industry Vocational Training, such that training is well structured and cost effective. That is what we are advocating for.
Gustav: There used to be technical and vocational training institutes that trained wood workers. Overtime somehow either they have not been attractive vocations again and therefore they are dying. There must be a conscious effort to revive it. The current system of turning technical institutions into universities is fanciful as the required technical and vocational skills training, are being overshadowed by additional disciplines that do not support factory floor manpower in industry.
Even the Wood Industry Training Centre built in 1990 with support from World Bank at Achiakrom, near Ejisu, is no longer serving its purpose of specifically providing value addition training for the industry.
By Ama Kudom-Agyemang