Lagos State Governor, Babajide Sanwo-Olu, on Wednesday, June 23, 2021 said that over 8 million people summing up 60 per cent of people living in the state lack access to clean water.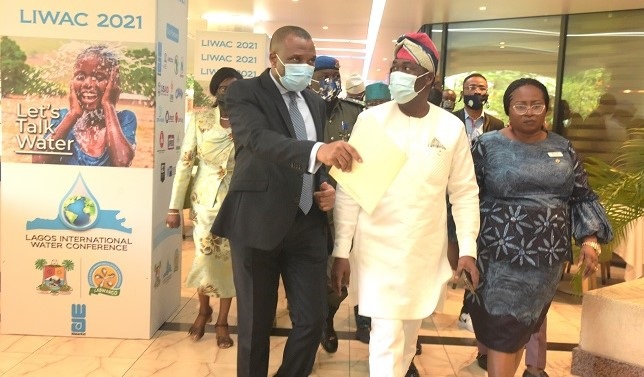 This is as the state continues to work towards attaining the global standard of a megacity.
Mr Sanwo-Olu, represented by the Deputy Governor, Obafemi Hamzat, made this disclosure while speaking at the second edition of the Lagos International Water Conference (LIWAC 2021).
The Governor said that his administration was working to close the gap between water demand and supply to ensure that clean and safe water was made readily available to the 14 million residents of the state.
"The Lagos State Water Supply Master Plan estimates daily water demand in the city at 540 million gallons per day (MGD) but production by the Lagos State Water Corporation (LSWC) stands at 210 MGD.
"This shows a clear deficit of over 300MGD, which translates to less than 40% access to clean, and safe water," he said.
"As a government, we are not oblivious of this gap and its consequences on the health of our populace. To close this gap, I toured the Lagos Water Corporation Facilities at Adiyan, Iju and Akute at the inception of my administration.
"We have expended resources on these facilities, and I am happy to tell you that the Adiyan II plant that will bring an additional 70 MGD to the already existing water capacity will soon become operational."
On her part, Evelyn Mere, the country director of WaterAid Nigeria, urged the President Muhammadu Buhari led Federal Government to declare a state of emergency in the water, sanitation and hygiene (WASH) sector.
She said Nigeria has a long way to go with regards to meeting the Sustainable Development Goal (SDG) target on universal access to water.
Mrs Mere emphasised the need to initiate conversations that will result in a plan on how to source for the needed investments and finance to ensure that adequate, affordable and sustainably safe water is provided to the Nigerian populace.
Also speaking at the event, Mr. Timeyin Uwejamomere, the Managing Director, Mangrove and Partners Limited, described Lagos as a huge market for water supply services. He suggested that defined roles be set for different actors in the sector without interference of any sort.
Mr Umejamomere suggested that The Lagos State Water Cooperation should be broken into small units and managed sizably to adequately serve the growing population of the state.
He argued that it was unreasonable to expect a single utility to serve the whole populace of the state.
"Lagos is bigger than 37 African countries, Lagos is two-thirds the size of Ghana in population so when we compare Lagos to Uganda and other places, we should be wary of the context. Lagos water corporation can be divided; we can break Lagos into smaller units and manage the components sizably," Mr Umejamomere said.
"It is unreasonable to expect one utility to serve 20 million people. We can send water from Adiyan and pipe the water to different sections, meter it and allow those sections to sell the water and pay back to the bulk generator," he added.
By Ayomide Emeka Joseph